(TRENTON) – New Jersey Agriculture Secretary Charles M. Kuperus and Assemblyman Douglas Fisher helped harvest asparagus, tasted Jersey Fresh honey, sampled peach cider and planted organic vegetables during a day-long planting tour through Salem and Gloucester Counties. The tour highlighted the diversity of New Jersey agriculture and the hard work it takes for farmers to be successful.
"Many New Jersey residents enjoy our locally grown Jersey Fresh produce and agricultural products throughout the year and a lot of hard work goes into providing residents with these fresh, high quality products," said Secretary Kuperus. "Now that we're seeing warmer weather, farmers throughout the state are out in their fields planting lettuce, herbs and other Jersey Fresh produce. We want to make sure we do everything we can to promote our products and keep our farmers viable and thriving."
"Farming is important to the Third Legislative District and New Jersey as a whole," said Assemblyman Fisher. "I am delighted to join Secretary Kuperus in touring this vibrant industry that is so vital to health of the New Jersey economy. This tour will help highlight the need for continued emphasis on this industry to ensure its success for years to come."
Kuperus and Fisher visited three Salem and two Gloucester County farms: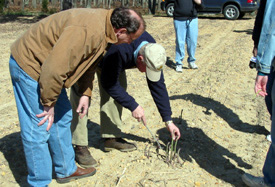 Walker Brothers Farm
-- a 200-acre asparagus farm in Pittsgrove, Salem County. The Walkers have been farming the land since the 1840's and now operate a farm market, harvest 30 acres of asparagus spears, produce and market asparagus salsa and guacamole, market Jersey Male Hybrid asparagus seed worldwide, and are one of the top sellers of asparagus roots in the United States.
New Jersey ranks fourth in the nation in asparagus production. Salem and Gloucester Counties are the top asparagus-producing counties in the state.
Harvey's Honey Farm
– a 64-acre honey farm with 4,000 hives in Monroeville, Salem County. The Harveys have been bee keeping since 1976. They, along with their two sons, daughter and daughter-in-law make their own bee boxes, extract and bottle honey, provide commercial pollination for blueberry, cranberry, vine crops, strawberry, and apple growers, and operate a retail store.
In 2002, 318,493 pounds of honey were produced in New Jersey. There were 180 farms with 11,527 bee colonies.
Circle M Farms
– a peach orchard in Mullica Hill, Gloucester County. They produce fresh market peaches and value-added peach cider.
Peach production in New Jersey dates back to the 1600s. In 2003, New Jersey's peach farmers produced about 60 million pounds of peaches on 8,000 acres, making the state the fourth-largest producer of peaches in the nation. Gloucester County leads the state in peach production. A wide variety of the fruit is grown locally, from the early-season Sentry and Red Haven, to the Loring, Flamin' Fury and Bounty, and at the season's height, Cresthaven, Jerseyqueen and Encore.




Sorbello and Wheeler Farms
– a 600-650 acre vegetable farm, growing asparagus, peppers, tomatoes and cucumbers in Swedesboro, Gloucester County.
DanLynn Farms
– a 10-acre organic vegetable and fruit farm in Pedricktown, Salem County. Dan and Lynn Lenco retired from corporate jobs three years ago and are in their third year of production. They sell their vegetables wholesale from Connecticut to Georgia and retail at Collingswood Community Farmers Market in Collingswood, New Jersey.
The Northeast Organic Farming Association currently certifies 50 organic production operations with 2,100 acres in New Jersey. Those farms generated between $1.5 and $2 million worth of sales in 2004.
The Department of Agriculture's popular Jersey Fresh branding program, in its 21st year, continues to make significant contributions to the farming community and state economy. The statewide economic impact of the Jersey Fresh program in the year 2000 was an estimated $63.2 million, with economic activity generated through the program increasing New Jersey's state and local tax revenue by $2.2 million.
For more information on Jersey Fresh, visit the Jersey Fresh website at
www.jerseyfresh.nj.gov
.