(TRENTON) – New Jersey Agriculture Secretary Charles M. Kuperus today witnessed what he believes is the future of agriculture, filled with bright, young minds and dynamic teachers guiding them. Kuperus welcomed new Agriculture, Food and Natural Resources Education (AFNR) teachers Katie McKee of Hackettstown High School and Michael Butler of Phillipsburg High School during visits to those schools.
"In order to maintain agriculture in New Jersey and keep it viable, we must welcome new people to agriculture and equip the next generation," said Secretary Kuperus. "Agricultural education programs like the ones in Hackettstown and Phillipsburg High Schools are extremely important to ensure that we will have young people to fill the needed positions."
McKee -- a first year teacher -- has been involved in agriculture for many years. The daughter of a Rutgers Cooperative Extension agent, Katie used 4-H to learn about the industry. She is a graduate of the Cook College, Rutgers University teacher education program for agriculture and attended Purdue University to pursue her Masters degree in agricultural education.
Butler -- also a first year teacher -- is himself a graduate of the AFNR education system at Newton High School and a recent graduate of the University of Minnesota Teacher Education program for agricultural education. In addition, he is a former State FFA President.
New Jersey AFNR programs serve more than 2,100 students in 46 secondary school districts. Warren County is the only county in the state in which every high school has an AFNR instructional program. A complete Agricultural Education program is composed of three components: class/lab instruction, supervised agricultural experience (SAE), and FFA, which provide a well-rounded and practical approach to student learning.
There are 35 FFA chapters in New Jersey with 1,760 students. Warren County FFA chapters have 445 students.
Secretary Kuperus tours the Agriculture, Food and Natural Resource Education facilities at Hackettstown High School, guided by the FFA Chapter leaders.
FFA is a national youth organization of 464,267 student members preparing for leadership careers in science, business and technology of agriculture with 7,194 local chapters in all 50 states, Puerto Rico and the Virgin Islands. FFA strives to make a positive difference in the lives of students by developing their potential for premier leadership, personal growth, and career success through agricultural education. Visit the New Jersey FFA website at
www.state.nj.us/agriculture/rural/ag_education.htm
for more information.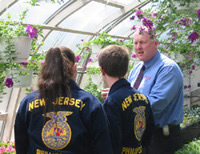 Secretary Kuperus tours the greenhouse at Phillipsburg High School, led by the FFA Chapter officers.
"FFA, with its leadership and career development events, prepares students for careers and leadership in agriculture, food and natural resources," said Secretary Kuperus. "But, for students to get the background they'll need in the job market, they also must have quality programs of instruction delivered by motivated teachers. That is why I am encouraging these new agricultural education teachers in Warren County to make careers out of teaching agriculture."
Surveys show that there is a great threat of losing new teachers within the first few years of entering the workforce. Fifteen out of every 100 vocational educators leave the profession after the first year of teaching and about 50 leave within six years.
In addition, professional job opportunities in agriculture are going unfilled because there are not enough trained people to fill the jobs. A 2004 national study by the Cooperative State Research, Education, and Extension Service of the United States Department of Agriculture and Purdue University anticipated more than 52,000 annual job openings for new graduates in the food, agricultural and natural resources fields during the next five years. However, only 32,300 new graduates from colleges of agriculture and life sciences, forestry and veterinary medicine are expected to take jobs in the system.
Secretary Kuperus recently sent a letter to the New Jersey Congressional delegation, urging them to support continued funding for the Carl D. Perkins Vocational and Technical Education Act, which is a major funding source for school-based agriculture, food and natural resource programs. A proposed elimination of the program would result in a loss of $26 million for New Jersey schools career and technical education.
"We can see there is a great demand for trained individuals who can take on leadership roles in agriculture, food and natural resource fields," said Secretary Kuperus. "I urge school administrators to continue to support agricultural education in their schools and I ask that lawmakers in Washington and in Trenton make it possible for these types of programs to grow and thrive."