(TRENTON) – Monmouth County residents don't have to go far to find fresh, locally grown produce and nursery stock and freshly caught seafood. New Jersey Agriculture Secretary Charles M. Kuperus and county agriculture officials today toured Monmouth County and observed a diverse and thriving agricultural industry, visiting businesses representing the Department of Agriculture's
Jersey Fresh
(
www.jerseyfresh.nj.gov
),
Jersey Grown
(
www.jerseygrown.nj.gov
), and
Jersey Seafood
(
www.jerseyseafood.nj.gov
) brands.
"Monmouth County has it all when it comes to farming and fishing, from beautiful nurseries with a vast array of plants, to fields of sweet corn and other produce, and pastures of grazing horses, to a fishing port bringing in a wide array of seafood," said Secretary Kuperus. "Monmouth County is a good example of how agriculture enhances our quality of life in New Jersey and how towns and counties need to plan for agriculture to keep the state green and growing."
Monmouth County might be familiar to many for its 27 miles of beaches, but is home to 47,198 acres of farmland. The County ranks second in the state in the number of nurseries and nursery stock acreage, and ranks fourth in acres harvested for both bell peppers and sweet corn. Monmouth has the largest number of horses and ponies in the state and is second in number of horse farms.
The food, restaurant and seafood industries figure prominently in Monmouth County. One of the state's six fishing ports, Belford, is located on the northern Monmouth County coast and there are many seafood restaurants along the shore, which feature fresh catches, supporting the seafood industry.
The Secretary's "Monmouth County Celebration of Agriculture Tour" included four stops in Monmouth County: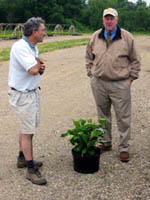 Four Seasons Nursery and Landscape, Englishtown
-- First generation farmers Roy and Scott Daum began their business in 1972 and now farm 70 acres of nursery stock.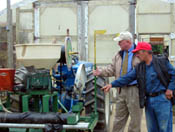 Twin Pond Farm, Howell
– The DeGregorio family farms 120 acres of produce and nursery stock. They have a garden center and farm stand, which has operated for 40 years. The family's tradition of farming actually dates back 70 years, when their grandfather arrived from Italy in Brooklyn and began a vegetable farm that he eventually brought to New Jersey.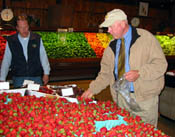 Delicious Orchards, Colts Neck
– A retail market well known for its home-baked pies and apple cider doughnuts, Delicious Orchards has been in business for 50 years. They sell locally grown and other produce in their market, operate a mail order business for their fruit and baked goods, and sell pick-your-own raspberries and strawberries on their 35 acres.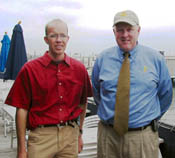 Bahrs Landing and Seafood Restaurant, Highlands
– Established in 1917 by John and Florence Bahrs, the restaurant is owned and operated today by fourth generation great-grandson Jay Cosgrove and his father Ray, who is the president of the New Jersey Restaurant Association. Supporters of Jersey Seafood, the Cosgroves can seafood soup and sell it all over the country.
The
Jersey Fresh
promotional and quality standard program for New Jersey grown produce and other agricultural products has been in place for 21 years. The Jersey Grown program for horticultural products certifies that plants, flowers, trees and shrubs are grown in New Jersey and are pest and disease-free. Jersey Seafood highlights the state's seafood and aquaculture industries and will soon be a brand of fresh, bagged clams. To find out more about the department's branding programs, visit the New Jersey Department of Agriculture website at:
www.state.nj.us/agriculture
.