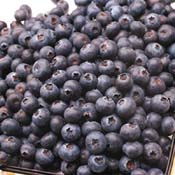 (TRENTON) – Agriculture Secretary Charles M. Kuperus today announced Jersey Fresh blueberries – New Jersey's official State fruit -- are in season and blueberry harvesting is underway.
The blueberry season got a late start due to cold and wet weather early on, but in spite of that, this year's harvest is expected to be good. Blueberries are usually available beginning in mid-June, peaking in July and ending in mid-August.
"From blueberry pancakes and blueberry crumb pie to snacking right out of the container, Jersey Fresh blueberries mean summer is here and that New Jersey's delicious and nutritious summer fruits and vegetables are on their way to a market near you," said Secretary Kuperus.
In 2003, a total of 40 million pounds of blueberries were produced on 7,500 acres, generating $45.7 million in sales, the second highest amount on record for the state.
Atlantic County is the top blueberry-producing county in New Jersey. It is home to Atlantic Blueberry Company, the largest high bush blueberry farm in the world. The major variety of blueberry grown in New Jersey is Blue Crop, followed by Duke, named for one of the founders of Atlantic Blueberry.
New Jersey is the largest fresh market blueberry supplier in the nation. The state ranks second in the country in number of acres of blueberries harvested.
Blueberries also are a part of our agri-tourism industry, with pick-your-own farms in ten counties throughout the state. To find a pick-your-own blueberry farm or markets carrying Jersey Fresh blueberries, visit the Jersey Fresh website at
www.jerseyfresh.nj.gov
.
The Department offered these tips for selecting blueberries:
· Look for blueberries that are plump and fresh looking;
· Pay particular attention to their color; they should be blue, black, bluish-black or purple;
· Blueberries have a gray, waxy deposit on the skin called bloom. The bloom is a protective coating, so do not wash blueberries until ready to use;
· Freeze blueberries on a cookie sheet and then place into a freezer storage bag. Do not wash before use;
· Blueberries spoil quickly if left at room temperature, but can be stored in the refrigerator for three days;
· Avoid containers that have juice stains on them, a sign the berries are crushed;
· Wrinkled fruit means they have been stored too long; while soft, watery fruit means the berries are overripe.
Following is a recipe for blueberries from Jersey Fresh Cooks, a cookbook available at local farm markets. The recipe was submitted by Cynthia Dunham of Princeton.
True Blue Banana Pancakes with Blueberry Compote
2 Jersey Fresh eggs, slightly beaten
1 cup flour
1 cup blue corn flour, finely ground
2 tsp baking soda
1 tsp lemon zest, finely grated
1 cup Jersey Fresh blueberries blueberry compote
1 large or 2 small bananas, sliced thin
2 cups buttermilk
3 TBS vegetable oil
3 TBS sugar
1 tsp salt
vegetable oil for cooking
Whisk together the eggs, oil, and buttermilk. Sift and combine dry ingredients and add lemon zest in another bowl and add to buttermilk mixture. Do not over mix. Stir only enough to moisten dry ingredients. Brush vegetable oil on a heavy griddle, heat the grill, spoon the batter onto the hot griddle and add several blueberries and slices of bananas to each pancake. When edges of the pancakes are bubbly around the edges, turn and cook the other side. Serve warm with blueberry compote
Blueberry Compote
1 generous cup of Jersey Fresh blueberries
1 heaping TBS cornstarch
1/3 cup sugar
½ cup orange juice
1 tsp orange zest
Combine all ingredients in a heavy saucepan over medium heat. Stir frequently until sugar dissolves and mixture thickens slightly, about 10 minutes.