(TRENTON) – New Jersey Agriculture Secretary Charles M. Kuperus today sampled some of New Jersey's bounty, the freshest, healthiest locally grown produce brought directly from the farm to the towns of Englewood, West Orange and Middlesex Borough during a farmers market tour.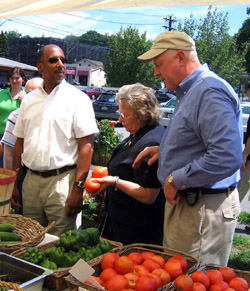 At the Englewood Farmers Market, located near the downtown area, Secretary Kuperus was joined by local legislators, Assemblywoman Loretta Weinberg and Assemblyman Gordon M. Johnson.
"Community farmers markets, such as in Englewood, provide residents with access to Jersey Fresh fruits and vegetables and a market for our farmers," said Secretary Kuperus. "This market in Englewood also helps attract visitors to the downtown area."
The Englewood Farmers Market has been operating for eight years. It features two farmers and four vendors who sell pickles, cheeses, jams and jellies and baked goods.
"One of the most highly anticipated events of spring and summer are the farmer's markets in District 37," said Assemblywoman Weinberg. "The Englewood Farmer's Market is a wonderful and creative addition to the downtown shopping district. It means a great deal to the people of Englewood, in particular seniors, who are able to access farm fresh produce right in their own backyard."
"This Farmer's Market -- in my hometown of Englewood -- is especially close to my heart," said Assemblyman Johnson. "From seniors to small children, the Englewood Farmer's Market has become a staple of life that Englewood residents depend upon."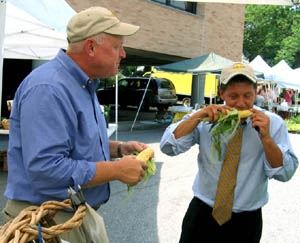 The second stop on the tour was at the West Orange Farmers Market, where the Secretary was joined by Assemblyman and West Orange Mayor John F. McKeon.
"The West Orange market gives residents easy access to Jersey Fresh fruits and vegetables and other agricultural products, harvested at the height of freshness, to take home for healthy and nutritious summer meals," said Secretary Kuperus. "This busy market also gives its farmers a new venue, keeping agriculture strong in the state."
The West Orange Farmers Market was started several years ago in an effort to bring people into the downtown area. It was moved to its present location in the parking lot behind Town Hall a couple of years ago. The market features four farmers and one vendor who sells fresh mozzarella and frozen, prepared foods.
"West Orange is happy to provide its residents with an opportunity to shop for Jersey grown produce," said Assemblyman McKeon. "We also applaud the efforts of Secretary Kuperus in providing a great outlet for our farmers to showcase their fresh and nutritious products."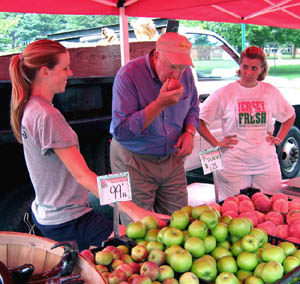 Middlesex Borough residents now don't need to go far when they want fresh-from-the-farm Jersey Fresh produce. Secretary Kuperus' final stop of the day was the new Middlesex Farmers Market, one of six new community farmers markets to open around the state this season.
"This new market in Middlesex brings New Jersey's bounty, the freshest, locally grown produce, directly to area residents looking for a healthy summer meal," said Secretary Kuperus. "Not only will the market benefit the surrounding community, but it will give farmers a new market opportunity, keeping agriculture strong in the state."
The Middlesex Farmers Market is operated by the Borough's Economic Development Committee who wanted to provide fresh produce to townspeople. The market has three farmers and several vendors selling baked goods, flowers, shrubs and cheese.
There are 76 community farmers markets operating in New Jersey. The number of markets in the state has been on the rise over the past few years. Twenty-four new markets opened in the past three years. Besides Middlesex, new markets opened in Fort Lee, Vineland, Sergeantsville, Lawrenceville and Hamilton Park. In total, there are 76 community farmers markets operating in New Jersey.
These markets participate in the Women, Infants, and Children (WIC) & Seniors Farmers Market Nutrition Program, which makes available locally grown fresh fruits, vegetables, and herbs to nutritionally at-risk pregnant, breast-feeding, or post-partum women; children two to five years old; and eligible seniors age 60 and older. Eligible participants receive four $5 vouchers valid through November 30 to purchase locally grown produce from certified farmer vendors.
In 2004, there were more than 65,000 WIC participants and almost 40,000 eligible senior participants. Currently, there are 185 certified farmer vendors, who will benefit from over $2 million available through the U.S. Department of Agriculture.