(TRENTON) – With Jersey Fresh produce abounding, New Jersey Agriculture Secretary Charles M. Kuperus today visited community farmers' markets in Cumberland County to tout the health benefits and good taste of locally grown Jersey Fresh produce.
Secretary Kuperus visited Vineland Farmers Market -- one of six new community farmers markets in the state this season – and the Millville Farmers Market.
Organizers say the Vineland market was established in an effort to revitalize Landis Avenue, which has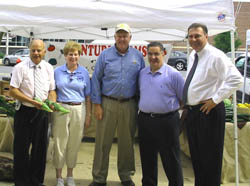 received a Main Street USA designation. The market has three farmers and several vendors selling fresh cut flowers, fresh pasta, and baked goods. There also is a food court, live music and face painting. Volunteers are on hand to help patrons bring items they have purchased to their cars.
"We support Vineland's efforts to bring the region's best produce to its local residents and help encourage commerce in the downtown area," said Secretary Kuperus. "Farmers are always looking for new market opportunities and, at this time of year, we know people are looking for healthy and delicious Jersey tomatoes, peaches, sweet corn and other agricultural products."
The Millville Farmers Market is in its second year and boasts three farmers and several vendors, selling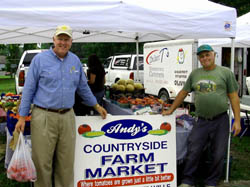 baked goods, breakfast sandwiches, birdhouses and beaded jewelry. According to market organizers, the market was started last year to bring fresh produce to the nearby senior citizen residents, promote the downtown and support area farmers.
"The Millville market's scenic location near the river makes visiting there a great summer activity," said Secretary Kuperus. "The city benefits from the market by bringing people to the downtown area on a weekend, the residents benefit by having access to locally grown produce, and the market helps New Jersey agriculture thrive by giving farmers new venues to sell their products."
There are 76 community farmers markets operating in New Jersey. Besides Vineland, new markets opened this year in Middlesex Borough, Fort Lee, Sergeantsville, Lawrenceville and Hamilton Park. In all, 24 new markets opened in the last three seasons.
These markets participate in the Women, Infants, and Children (WIC) & Seniors Farmers Market Nutrition Program, which makes available locally grown fresh fruits, vegetables, and herbs to nutritionally at-risk pregnant, breast-feeding, or post-partum women; children two to five years old; and eligible seniors age 60 and older. Eligible participants receive four $5 vouchers valid through November 30 to purchase locally grown produce from certified farmer vendors.
In 2004, there were more than 65,000 WIC participants and almost 40,000 eligible senior participants. There are currently 185 certified farmer vendors, who will benefit from over $2 million available through the U.S. Department of Agriculture.