(TRENTON) – New Jersey's full bounty of delicious summer produce can now be found at local farm stands, supermarkets and community farmers markets, Agriculture Secretary Charles M. Kuperus said today.
"We are at the height of our Jersey Fresh season, with just about every fruit and vegetable grown in the Garden State available to our residents and visitors," said Secretary Kuperus. "We are having a great season and the quality of the harvest is outstanding."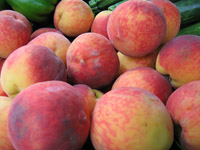 This year, Jersey peaches are very high quality fruit with good size. New in stores and farm markets this season is the Premium peach, which has a freshness guarantee and meets the highest standards of grading. To be called Premium, the fruit must be picked within the last seven days, meet the highest USDA standards, and come from farms that adhere to good, safe handling practices, ensuring consumers have the best taste experience.
Peaches will be available through at least mid-September. In 2004, New Jersey produced 32,500 tons of peaches. New Jersey ranks fourth in the nation in peach production.
Mature peaches are intensely fragrant, with a golden or cream undertone and yield to palm pressure. An overripe peach will display shriveling at the stem or excessive soft spots. Peaches are best kept at room temperature, but may need refrigeration to avoid spoiling if kept for some time. When ripe, peaches should be kept in a refrigerator for no more than five days. Never put an unripe peach in the refrigerator, as it will not achieve optimum flavor and have a mealy texture.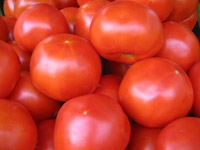 New Jersey's tomato crop is projected to be larger than last year due to favorable weather conditions. This year, New Jersey became one of only two states in the nation to require tomatoes advertised as "vine-ripened" to actually have ripened on the vine. Jersey tomatoes will be available through the first frost this fall.
New Jersey producers harvested 69 million pounds of tomatoes on 3,000 acres last year. New Jersey ranks eighth in the nation in tomato production. Tomatoes are ready to eat when they are slightly soft. An extremely firm tomato is not yet fully ripe, even though it may be completely red. Jersey tomatoes should be stored at room temperature away from direct sunlight. A sliced tomato loses its flavor quickly so choose tomatoes that are small enough to consume in one meal.
Sweet corn is harvesting in good quantity and quality and should be available through Labor Day. In 2004, New Jersey harvested 52.5 million pounds of sweet corn on 7,500 acres. The Garden State ranks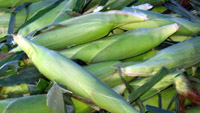 11th in the nation in sweet corn production.
When choosing corn, look for ears with bright green, snugly fitting husks, and golden brown silk. Inside, the kernels should come all the way to the ear's tip, with tightly spaced rows, and appear plump and milky. If pricked, a kernel should spurt milky white juice. Choose ears with medium-sized kernels. Very small kernels are immature, and large kernels have a starchy taste. For best flavor, eat sweet corn as soon as possible. Leaving husks on when storing corn helps preserves the flavor. At room temperature, the glucose in corn will convert to starch in as little as 24 hours, so refrigeration is critical for maintaining freshness.
There is good quantity and quality of a variety of other summer produce:
Bell Peppers
: New Jersey ranks 4th in the nation in production of peppers. In 2004, the state produced 92.8 million pounds on 3,500 acres.
Cabbage
: Cabbage acreage harvested last year 1,500 and 56.3 million pounds were produced, ranking New Jersey 12th in the nation in cabbage production.
Cucumbers
: In 2004, 68.2 million pounds of cucumbers were harvested in the state on 3,100 acres. New Jersey ranks 7th in the nation in cucumber production.
Squash
: Last year, there were 26.4 million pounds of summer squash harvested on 2,200 acres. New Jersey ranks 7th in the nation in squash production.
"Always look for the Jersey Fresh logo at your local farm market or supermarket to be sure you're buying locally grown products," said Secretary Kuperus. "Nothing beats the taste of our Garden State's Jersey Fresh, nutritious fruits and vegetables."
Visit the Jersey Fresh website at
www.jerseyfresh.nj.gov
to find supermarkets, farmers markets and pick-your-own farms that carry Jersey Fresh products.