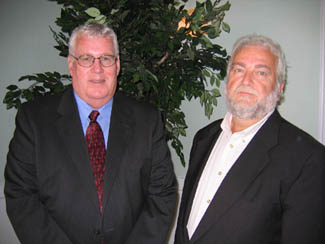 (TRENTON) – Farmers from Warren and Burlington counties were sworn in as the two newest members of the State Board of Agriculture on Tuesday, August 2.
Robert J. Matarazzo of White Township, Warren County, and Noble F. McNaughton of Tabernacle, Burlington County, were seated during the Board's annual reorganization meeting at the Mercer County Boathouse in West Windsor. They were selected for the positions at the January State Agricultural Convention and later nominated by Acting Governor Richard J. Codey and confirmed by the State Senate.
"Both Mr. Matarazzo and Mr. McNaughton are excellent choices for the Board," said New Jersey Secretary of Agriculture Charles M. Kuperus. "They bring a wealth of experience, knowledge and innovative thought to the Board's work in formulating policy for the Department of Agriculture."
Matarazzo, the owner-operator of Matarazzo Farms, also owns Four Sisters Winery with his wife, the Rev. Laurie Rice Matarazzo, and in 2004 opened Doe Hollow Bed and Breakfast. In 1991, Matarazzo started RJM Marketing, a consulting business offering marketing advice to agri-businesses. The firm has represented such interests as the New Jersey Tomato Council, New Jersey Peach Promotion Council and the Garden State Wine Growers Association. He is a graduate of West Essex High School, the Boston Institute of Technology and the New England School of Photography.
McNaughton, the Vice President of Indian Mills Nursery Inc. and McNaughton's Nurseries Inc., oversees the daily operations on 320 acres in Burlington, Cumberland and Salem counties, of which 195 acres are devoted to nursery stock and the remainder to cover crop and grain. He previously served as president of the State Board of Agriculture in 1993. He has served as president of the Eastern Regional Nurseryman's Association and the New Jersey Nursery and Landscape Association, and has been on the board of directors of the New Jersey Farm Bureau. He also has served as Mayor of Tabernacle, where he currently is a township committeeman. He is a graduate of Cherry Hill High School and Bradley University.
The State Board of Agriculture, comprising eight members, is the policy-making body of the New Jersey Department of Agriculture. Its members serve for four years, with two members being replaced each year. By law, at least four of its members must represent the top commodity groups in the state. New members are sworn in each year at the Board's reorganization meeting. Members serve without salary, but may be reimbursed for expenses.