(PRINCETON) – The mention of peaches brings to mind certain areas of the country. Georgia is known as the Peach State, and other southern states have large peach industries.
But what often surprises people about peaches is the fourth-largest producer of the fruit – New Jersey. Yes, the state known for its blueberries, tomatoes, corn and cranberries also ranks fourth in the nation in peach production. What's more impressive, while other states produce their crop throughout longer portions of the year, New Jersey's season lasts from July through September.
"The size of our state's peach industry often takes people by surprise," said Secretary of Agriculture Charles M. Kuperus. "But it underscores just how diverse New Jersey agriculture is. The peaches produced here are some of the best you'll ever taste, and they are certainly regarded as a late-summer early-fall treat."
For people living close to New Jersey's peach producers – and that includes large markets in New York and Philadelphia – Jersey peaches are sought after because they can be left to ripen on the tree longer than those coming from farther distances. That makes for a sweeter, juicier peach that is picked at the peak of ripeness, shipped and eaten all within a three- to four-day span.
The New Jersey Peach Promotion Council recently spotlighted the state's peach industry at Terhune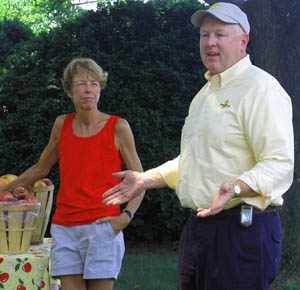 Orchards in Lawrence Township, just outside Princeton. During a tour of the farm's peach orchard, owner Gary Mount spoke of the "mating disruption" technique developed by Rutgers University, which uses twist ties with a female moth's scent to confuse male moths and dramatically reduce the rate or reproduction, thus reducing damage done to peach trees by caterpillars.
"It's a confusion technique. The males can't find the females because there's so much of the scent around," Mount said. "That allows us to produce a very good peach while using almost no insecticides in the orchard."
The day also featured talk of the new "Premium Peach Grade" established by the State Board of Agriculture, which allows peaches of the highest certified quality to be sold at a premium price.
Secretary Kuperus and Pam Mount at Terhune Orchards for the Peach Tour
Each pallet of peaches shipped under the "Premium Jersey Fresh Grade" label must be inspected to ensure that the peaches were packed and shipped within seven days of picking. All "Premium" peaches also must meet the "US Fancy" grade. Also, farms can receive the new premium grade only if they have been licensed by the Department's Farm Certification Program, a third-party audit that ensures product traceability, good handling and good agricultural practices.
New Jersey peaches come in an array of varieties, from the yellow-flesh Sentry to the white-flesh White Lady, to "fuzzless" peaches, also known as nectarines, in both white and yellow flesh. Some farmers have even begun growing the "doughnut peach," a flatter variety with a pop-out pit that leaves a doughnut-shaped piece of fruit to eat.
Some peach growers have sought out innovative ways to make the most of their crop. Instead of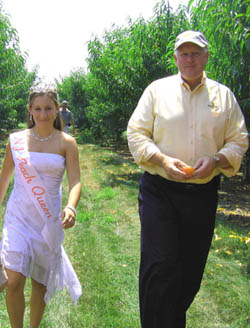 discarding peaches that may be physically unappealing to consumers but otherwise fine to eat, Gloucester County peach grower Santo John Maccherone presses them into a naturally sweet cider that has become a hit at farmers markets and select retail locations.
Gloucester County is the heart of New Jersey's peach country. Roughly 90 percent of the peaches produced in New Jersey come from that county.
"You've got a great range of operations in New Jersey," said Philip Neary, promotions chairman of the New Jersey Peach Promotion Council. "You've got the large commercial growers in the southern part of the state and then you have some really good farm markets and pick-your-owns like the Mounts up here in the north."
The New Jersey Department of Agriculture three years ago convened a peach task force to explore and implement ways of increasing purchases of New Jersey peaches, which resulted among other things in the creation of the Premium Peach grade.
Secretary Kuperus with 2005 Peach Queen Alyse Scaffidi
of Glassboro, touring peach orchard
"While there are the challenges of peaches from other parts of the country coming into our market, the late summer to early fall really belongs to the Jersey peach," said Secretary Kuperus. "Consumers taste the difference and they let their grocers know that they really want the Jersey-produced peach."