(TRENTON) – New Jersey Agriculture Secretary Charles M. Kuperus talked to farmers, patrons and local officials about the health benefits and good taste of locally grown produce during a tour of North Jersey community farmers Markets on Thursday, August 18.
Kuperus visited the Common Greens Farmers Market in downtown Newark. The Common Greens Farmers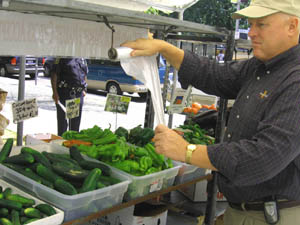 Market has been operating for three years. It features three farmers and a variety of vendors who sell baked goods, kettle corn, frozen foods and soaps. There also is a live band. The market is held Thursdays from 11 a.m. to 4 p.m. through the end of October.
"The Common Greens market brings New Jersey agriculture's bounty directly from the farm to nearby residents and provides a link between consumers and those who grow their food," said Secretary Kuperus. "Markets, such as this one in Newark, help sustain agriculture in New Jersey by providing a new market for farmers."
"The atmosphere is like an outdoor café, a place to sit, relax and spend the day," said Sharon Douglass, program director for Newark Downtown District, a special improvement district in the city. "The market has a great variety of items and has become the place for local senior citizens to shop on Thursdays."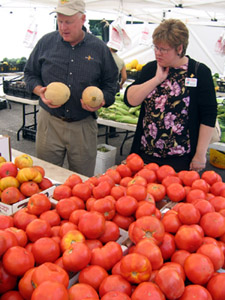 The Secretary's next stop was the Bloomfield Farmers Market, which has been operating for four years. It features one produce farmer and one vendor who sells baked goods and spices. There also are information booths. The market is held in the municipal parking lot on Bloomfield Avenue Thursdays from 12 to 6 p.m. through the end of October.
"The Bloomfield market gives nearby residents access to Jersey Fresh fruits and vegetables, which most likely were harvested earlier in the day," said Secretary Kuperus. "In addition, markets, such as this one in Bloomfield, keep New Jersey agriculture green and growing by providing a new market for farmers."
The Secretary checks out the produce at the Bloomfield Farmers Market with Lydia Blalock, an extension specialist with Rutgers University.
Kuperus' final stop was the Rahway Farmers Market, where he was joined by Assemblywoman Linda Stender.
"The Rahway market gives commuters and residents the opportunity to take New Jersey's agricultural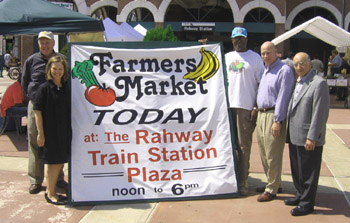 bounty home with them, provides local consumers with access to fresh fruits and vegetables and gives the farmers a new market opportunity, keeping agriculture strong in the state," said Secretary Kuperus.
The Rahway Farmers Market has been operating for five years. It features two farmers and several vendors who sell items such as baked goods and cut flowers. The market is held at the New Jersey Transit Train Station Plaza Thursdays from 12 to 6 p.m. through mid October.
From Left to Right: Secretary Kuperus, Assemblywoman Stender, Councilman David Brown, Mayor James Kennedy, and Councilman Jerry Scaturo
"The Rahway Farmers Market provides the best of both worlds for Rahway resident," said Assemblywoman Stender. "It is a great opportunity for local consumers to buy Jersey Fresh fruits and vegetables while it invigorates the local farming economy."
Secretary Kuperus' visits to the markets in Newark, Bloomfield and Rahway are part of his ongoing tour of community farmers markets during the state's growing season.
There are 76 community farmers markets operating in New Jersey. The number of markets in the state has been on the rise over the past few years. Twenty-four new markets opened in the past three years, with six opening this summer alone in Middlesex, Vineland, Fort Lee, Sergeantsville, Lawrenceville and Hamilton Park.
These markets participate in the Women, Infants, and Children (WIC) & Seniors Farmers Market Nutrition Program, which makes available locally grown fresh fruits, vegetables, and herbs to nutritionally at-risk pregnant, breast-feeding, or post-partum women; children two to five years old; and eligible seniors age 60 and older. Eligible participants receive four $5 vouchers valid through November 30 to purchase locally grown produce from certified farmer vendors.
In 2004, there were more than 65,000 WIC participants and almost 40,000 eligible senior participants. Currently, there are 185 certified farmer vendors, who will benefit from over $2 million available through the U.S. Department of Agriculture.