(ATLANTIC CITY) – New Jersey Agriculture Secretary Charles M. Kuperus today talked to farmers, patrons and local officials about the health benefits and good taste of locally grown produce during a visit to the Atlantic City Farmers Market.
"This market in Atlantic City provides a great service to local residents by providing them with access to freshly picked fruits and vegetables and connects people with those who grow their food," said Secretary Kuperus. "The market also gives the farmers a boost by providing them with a new market, helping to keep agriculture in the Garden State green and growing."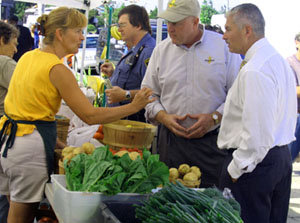 Assemblyman Francis Blee joined Kuperus at the Atlantic City Farmers Market, which has been operating for five years. It features three farmers and two craft vendors. The market is held in a park on Atlantic Avenue from 10 a.m. to 4 p.m. Thursdays and Saturdays through the end of October.
"The Atlantic City Farmers Market plays a significant role in linking the benefits of New Jersey's agricultural community and a leading urban area," said Assemblyman Blee. "We are certainly pleased to welcome Secretary Kuperus, as his presence underscores the value of this neighborhood asset."
Secretary Kuperus' visit to the market in Atlantic City is part of his ongoing tour of community farmers markets during the state's growing season, which lasts well into the fall.
There are 76 community farmers markets operating in New Jersey. The number of markets in the state has been on the rise over the past few years. Twenty-four new markets opened in the past three years, with six opening this summer alone in Middlesex, Vineland, Fort Lee, Sergeantsville, Lawrenceville and Hamilton Park.
These markets participate in the Women, Infants, and Children (WIC) & Seniors Farmers Market Nutrition Program, which makes available locally grown fresh fruits, vegetables, and herbs to nutritionally at-risk pregnant, breast-feeding, or post-partum women; children two to five years old; and eligible seniors age 60 and older. Eligible participants receive four $5 vouchers valid through November 30 to purchase locally grown produce from certified farmer vendors.
In 2004, there were more than 65,000 WIC participants and almost 40,000 eligible senior participants. Currently, there are 185 certified farmer vendors, who will benefit from over $2 million available through the U.S. Department of Agriculture.