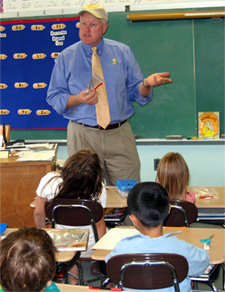 (FRANKFORD TOWNSHIP) – Fresh red peppers were on the menu today in Cathy Hennessey's second grade class at Frankford Township School. The 18 seven- and eight-year-olds tasted the peppers during a visit by New Jersey Secretary of Agriculture Charles M. Kuperus, as part of the state's Fruit and Vegetable Pilot Program.
Each month, all students in Frankford Township School will sample the fruit or vegetable of the month, and learn more about that vegetable and the benefits of eating fresh produce. The school houses grades K through 8.
"Students involved in the pilot program will have an opportunity to try fruits and vegetables they might not be offered at home," said Secretary Kuperus. "The best time to begin healthy eating habits is when you are young and perhaps this program will instill in these students a lifetime appreciation of fruits and vegetables."
Frankford Township School officials sought to be part of the Fruit and Vegetable Pilot Program as part of their Team Nutrition initiative, in it's fourth year of operation. The program's initial intent was to create an awareness of the importance of healthy eating habits and daily physical activity, thus promoting wellness in the school community. The initiative included the planting of a school nutrition garden and a Family Fun and Fitness Night.
"This year we are looking forward to participating in the fruit and vegetable pilot program offered by the New Jersey Department of Agriculture," said Eileen Lawley, Frankford Township School nurse, who heads up the Team Nutrition program. "Here, the children will be able to sample a fruit or vegetable in their classroom each month. Our goal is that this will expose the students to new, healthier foods and increase their fruit and vegetable consumption."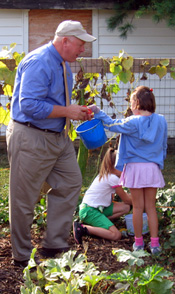 Secretary Kuperus was treated to a tour of the garden at Frankford Township School, which was first planted in spring 2004 as a student/teacher/community effort. In the two seasons the garden has been planted, students have grown a variety of produce, including: corn, squash, strawberries, pole beans, peas, pumpkins, and lettuces.
The Fruit and Vegetable Pilot Program is administered through the New Jersey Department of Agriculture's Division of Food and Nutrition and is funded by the 2004 United States Department of Agriculture Team Nutrition Grant. The produce is provided by the United States Department of Defense and every effort will be made to use Jersey Fresh products when they are in season.
Besides Frankford Township School, 10 other schools are participating in the pilot project: Bryant Elementary School in Teaneck; Martin Luther King Junior in Jersey City; Martin Luther King Intermediate School in Piscataway; New Jersey Regional Day School in Newark; Red Bank Primary School in Red Bank; Tuscan Elementary School in South Orange/Maplewood; Billingsport Elementary School in Paulsboro; Ethel Jacobson Elementary School in Surf City; Hillside School in Mount Laurel; and Zane North School in Collingswood.
In future months, the students at these schools can look forward to sampling: yellow squash, pineapple, clementines, dried cranberries, sweet potatoes, kiwi, sugar snap peas, spinach and blueberries.