(BROWNS MILLS) – Every fall weekend in New Jersey, residents and visitors eagerly visit farms to pick apples and pumpkins, go on hay rides, and navigate corn mazes or take in one of the many fall or harvest festivals. To farmers, it's known as agricultural tourism, or agri-tourism – a way for farmers to expand their businesses from traditional farming and also give non-farmers an opportunity to experience New Jersey agriculture.
New Jersey Secretary of Agriculture Charles M. Kuperus today announced that every year there are a greater number and a more diverse array of agri-tourism events in the state, including the new Harvest Tours offered at Joseph J. White Farm in Browns Mills.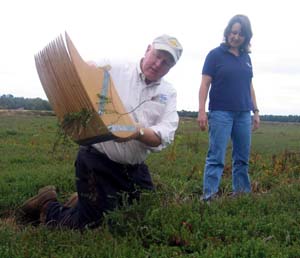 "Until now, not many people have had the opportunity to get such a close-up view of the harvesting of cranberries on a commercial farm," said Secretary Kuperus while touring the White Farm, the historic center of cranberry production in New Jersey and birthplace of the blueberry industry. "We are working to help agri-tourism in the state grow each year. These outdoor activities highlight agriculture in the Garden State as well as keep agriculture green and growing."
Joe Darlington and wife, Brenda Conner, are fifth generation farmers who actively cultivate the White farm's 350 acres of cranberries and have opened up their operation to visitors. This year, they also launched the White Star Country Store on Route 206 in Southampton.
Secretary Kuperus is given a lesson on how to use a cranberry scoop by Brenda Conner
"We realized that we could diversify our farm by offering harvest tours and opening a country store,"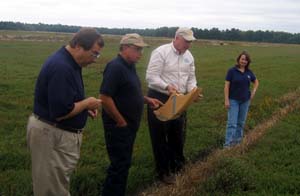 said Darlington, owner of Joseph J. White, Inc. "Not only does this improve our revenue possibilities but it gives us an opportunity to educate the public about our good stewardship of agricultural wetlands, an important consideration for cranberry cropland, a significant crop in an urbanized state like ours."
New Jersey ranks fourth in the nation in cranberry production. Last year, cranberry farmers in the state produced 402,000 barrels, resulting in $13.5 million in revenues.

Assemblyman Larry Chatzidakis, Joe Darlington, Secretary Kuperus and Brenda Conner at cranberry bog
Secretary Kuperus said there is a new webpage on the Department of Agriculture's Jersey Fresh website to help people find agri-tourism activities to enjoy.
"There is so much to see and do for families, students and individuals in New Jersey agriculture, and the fall is an active time of year to get out on the farm," said Secretary Kuperus. "Now, there's a place on the web where people can go for a comprehensive list of agri-tourism events and attractions to help them plan their outings."
The new agri-tourism webpage on the Jersey Fresh website at
www.state.nj.us/jerseyfresh/agritourismhome.htm
provides convenient information and links to everything from living history farms and pick your own operations to food festivals, equine events and agricultural fairs.
Featured on the new webpage is a database to search for specific agri-tourism activities, a separate listing of the many corn mazes, hay rides and fall activities in the state and a calendar of upcoming events.
New Jersey is working to strengthen and grow the agri-tourism industry. To determine the impact of the agri-tourism industry on the state's economy, the New Jersey Department of Agriculture is working with Rutgers University's Food Policy Institute to conduct a comprehensive study on agri-tourism in the Garden State. In addition, in 2004, the Department formed the New Jersey Agri-Tourism Industry Advisory Council, whose charge is to develop and expand the agri-tourism industry in the state.
While there are no agri-tourism statistics in New Jersey, travel and tourism in general is the state's second largest industry, generating $31 billion in revenues annually. As an example, income from agri-tourism related activities on Vermont farms totaled $19.5 million in 2002.
A full line-up of New Jersey agri-tourism events is available at:
www.state.nj.us/jerseyfresh/funcalendar.htm
.