(TRENTON) – The pine shoot beetle, an invasive species that stunts the growth of pine trees, has been found in New Jersey in several northern counties.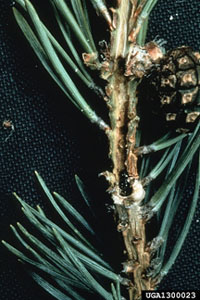 The beetle, a native of Europe discovered most recently in the United States in 1992, attacks new shoots of pine trees. It also can attack stressed pines by breeding under the bark at the base of the tree. The beetle can seriously harm the health of trees and even kill them when present in large enough numbers. The beetles prefer Scotch pines, but will feed and reproduce in most pine species. While the beetle can seriously harm the health of pine trees, and even kill them, it can be easily managed in Christmas tree plantations and nurseries. The beetles do not attack Blue Spruce, Norway Spruce, Douglas-Fir, and Fraser Fir, which are commonly used as Christmas trees.
"As of now, there have been a limited number of these beetles found in surveillance traps in New Jersey's northernmost counties," said Secretary of Agriculture Charles M. Kuperus. "Many northeastern states already have widespread populations of this beetle, and there are varying approaches to stopping its spread. However, we will take all necessary steps in New Jersey to minimize the impact of this invasive pest to our Christmas tree and nursery industries."
Beetles boring in pine shoot. Photo by: E. Richard Hoebeke, Cornell University, www.forestryimages.org
Pine shoot beetles were found in the U.S. in Cleveland in 1992. Since then, they have been detected in all Great Lakes states, including Minnesota, Wisconsin, Indiana, Illinois, Michigan, Ohio, Pennsylvania and New York. The beetles also have been found in West Virginia, Virginia, Vermont, New Hampshire and Maine. In those states, the USDA's Animal and Plant Health Inspection Service (APHIS) has established quarantines to restrict the movement of infested materials such as Christmas trees, pine nursery stock, pine logs, stumps and pine bark mulch. New Jersey was the site of the only previously recorded pine shoot beetle infestation in the United States in 1913.
The beetles are believed to have entered the country in ships carrying infested dunnage, the wooden packing material that protects ships' cargo from damage during transport. The beetles found recently in New Jersey were detected in surveillance traps in Bergen, Hunterdon, Passaic, Sussex and Warren counties.
Pine shoot beetles are small, about the size of a match head in adulthood. The legless larvae are white with a brown head. Adults, not much bigger than the larvae, are brown or black and cylindrical. They complete just one life cycle per year, spending winter months inside the bark at the base of trees.
Adults can fly several kilometers during the mating season in March and April to find a suitable host tree. From April to June, larvae hatch and feed under the bark while maturing. After pupating, they emerge as adults and, from July through October, tunnel through bark and fly to young pine shoots. They enter the shoot and move upward by hollowing it out. Infested shoots droop, turn yellow and eventually fall off. Severe infestation can result in diminished height and diameter growth of the tree.
To learn more about the pine shoot beetle, please visit the Department's pine shoot beetle web page at
www.state.nj.us/agriculture/pineshootbeetle.htm
.