(TRENTON) –When people think of agri-tourism in New Jersey, they might think of corn mazes, hayrides and pick-your-own produce farms. But, several times during the year, the public has the opportunity to witness an unusual event for New Jersey – the harvest and auction of Japanese koi, a popular ornamental fish for backyard decorative ponds. New Jersey Secretary of Agriculture Charles M. Kuperus today attended this unique agri-tourism event at Quality Koi Company's Nisei Koi Farm in Penns Grove.
Secretary Kuperus watched as koi was harvested from the growout ponds. An auction took place Sunday, giving attendees the opportunity to bid on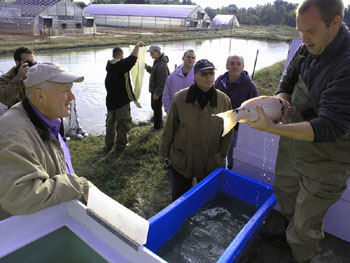 the newest and best varieties from this year's growing season.
Secretary Kuperus views harvested Koi held by Mathew McCann of Quality Koi Company.
"Yesterday's living room goldfish bowl is today's backyard koi pond," said Secretary Kuperus. "Water gardening is growing in popularity and the koi hobby has some very devoted hobbyists, much like horse breeders and those who raise show dogs. In addition, the water garden, filled with prized pet koi, is becoming a part of New Jersey landscaping, helping residents to beautify and add value to their property. The koi harvest and auction provides people with yet another agri-tourism activity, highlighting the diversity and depth of New Jersey's agriculture industry."
Harvested Koi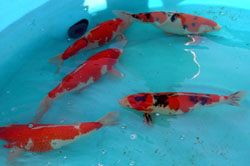 A koi is a domesticated variety of common carp that originated from numerous generations of careful selective breeding in Japan. The keeping and showing of koi is widely enjoyed all over the world. Quality Koi Company hatches and produces their own domestically bred varieties hand-selected from Japanese bloodlines.
Koi are known not only for their bright colors such as red, white, black, blue, yellow and any combination of these colors, but also for their color patterns, scale patterns, body shape, and size. The most sought-after varieties and the best progeny from winners of the most prestigious koi shows can fetch thousands of dollars each.