(HILLSIDE) – With inventories of canned goods and other groceries down and a shortfall in holiday donations, the Community FoodBank of New Jersey in Hillside received a much-needed boost today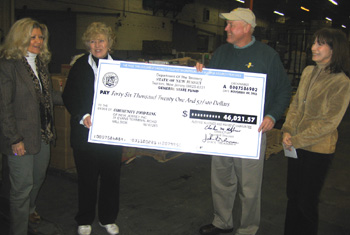 from New Jersey Secretary of Agriculture Charles M. Kuperus, who hand delivered a grant check for $46,021. FoodBank officials say the shortfall occurred after assisting those in other parts of the country impacted by recent hurricanes.
"While we are proud to have aided the victims of devastating hurricanes, we must continue to remember the plight of the hungry closer to home," said Secretary Kuperus. "Grant money we have secured will certainly assist the Community FoodBank in replenishing its supplies as we get into the holiday season. However, it is vital that people continue to donate whatever they can to help feed needy New Jersey families."
From Left to Right: Kathy Kuser, Dir. of the Div. of Food & Nutrition, Kathleen DiChiarra, of the Community FoodBank, Secretary Kuperus, and Hope Holland, Coordinator of the Emergency Food Assistance Program.
The funding is part of a $500,000 grant for the Department of Agriculture's emergency feeding organizations. The money comes from the Temporary Assistance to Needy Families (TANF) program, a federal cash assistance program for welfare clients, administered in the state by the Department of Human Services.
Last week, Acting Governor Richard Codey made $25,000 from the Department of Community Affairs available to the FoodBank, which enabled the agency to purchase 3,300 turkeys for Thanksgiving distribution.
Kathleen DiChiara, Executive Director of the Community FoodBank, says their inventory of canned goods and other groceries is down by about 800,000 pounds from this time last year. They sent five trailer loads of food and diapers to the Gulf Coast, in response to the disastrous hurricanes and many of the food industry donors they rely on also responded to the emergency need down south.
"We are grateful that the State of New Jersey and many individual donors have responded to our need for turkeys and funds this Thanksgiving season," said Kathleen DiChiara, executive director of the FoodBank. "Our major challenge for the months ahead is to continue to provide emergency food for the growing number of New Jersey families who must turn to food pantries and soup kitchens. A growing number of the working poor and those on fixed incomes cannot stretch their paychecks to cover a trip to the grocery store. We have to be there for those families, and we are counting on the generosity of New Jersey's citizens."
The Community FoodBank of New Jersey distributes food to more than 1,500 member agencies throughout the state, serving more than 500,000 low-income people annually. The agency distributes 23 million pounds of food and other groceries in 18 New Jersey counties, as well as 1.7 million pounds of fresh fruits and vegetables.
The Community FoodBank is the largest of the Department of Agriculture's six contracted emergency food organizations throughout the state. The organizations distribute United States Department of Agriculture donated commodities allocated through The Emergency Food Assistance Program (TEFAP), a federal program administered in New Jersey through the state Department of Agriculture. The Department contracts with emergency food organizations to distribute federally donated food to needy individuals and families through a statewide network of 660 local pantries, soup kitchens and homeless shelters.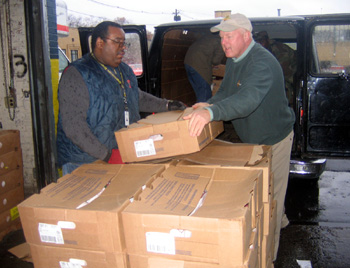 From October 2004 through September 2005, the Community FoodBank distributed in excess of 5.5 million pounds of USDA commodities.
While at the FoodBank, the Secretary also assisted New York Giants football players and corporate volunteers in sorting food and clothing and distributing holiday food items.
"As families around New Jersey celebrate Thanksgiving, we must not forget those less fortunate than us who confront the issue of hunger every day," said Secretary Kuperus. "While the problem may seem more pronounced during the holidays, the Department of Agriculture works cooperatively with communities year-round to battle hunger."
Secretary Kuperus assists a Community FoodBank member agency load food for distribution to needy families.