(TRENTON) – Most of the images Americans will retain from the ravages of Hurricanes Katrina and Rita revolve around people – people stranded on rooftops, people in rowboats on what used to be streets, people crammed into temporary shelters.
But animals, too, were impacted mightily by the storms. While cats, dogs and other pets lost in the cities were the subject of relief efforts, little public attention was paid to the impact on livestock in rural areas. However, those animals, and the farmers who rely on them, were hit hard.
The storms destroyed fencing, making it harder to control livestock movement, and they reduced to almost nothing the available hay and other feed to keep the livestock alive.
New Jersey farmers, especially those producing hay and grain, were sympathetic – so much so that they began calling the state's Department of Agriculture and asking what they could do to help.
"Time and again, when someone is in need, we see New Jersey's farmers come together to help out," said New Jersey Agriculture Secretary Charles M. Kuperus. "We hope this effort will inspire other states to undertake similar projects."
With the offers in hand, the Department went in search of ways to get the supplies to Gulf Coast livestock farmers. Soon, a connection was made with the American Horse Council, the Farm Aid organization and the CSX railway to load up a rail car full of hay and fencing supplies. The train was eventually loaded at the Grow Mark facility in Bordentown, N.J., on November 26, with help from volunteers including the Allentown, N.J., FFA chapter, and sent to the Gulf States. All involved see the project as a first step in a longer-range campaign. They hope other states are inspired to undertake similar efforts.
"We're encouraging other states to get involved the way we did, through national organizations like the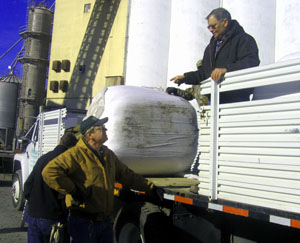 Horse Council and Farm Aid," said Daniel Wunderlich, the NJDA's dairy specialist and a prime organizer of the effort. "If they follow the blueprint of what we did here, it should be easy for their farm communities to send help where it's needed most."
Along the way, the effort picked up the support of Farm Aid President and music legend Willie Nelson.
"The hurricanes that devastated large areas across the Gulf States hit farmers especially hard," Nelson said in a statement. "Many farmers have lost absolutely everything – their homes, barns, pastures, livestock and their markets. It will take a long-term commitment, hard work and a lot of compassion to get these farmers back on their feet, and Farm Aid is committed to this challenge."
Ted Foulk and Daniel Wunderlich help unload round bales of hay from a truck to be put onto the rail car.
Much of the supplies in the New Jersey effort were gathered together by Gloucester County hay and grain farmer Ted Foulk, a 4-H leader who rallied others in the agricultural community like the Garden State Appaloosa Association and Spring Valley Farm to donate items.
"We figured it would be a good project four our Triangle Hog (4-H) Club, since it was related to agri-business and that's what we're focusing on," Foulk said.
"Once Mr. Foulk brought it up, we sent letters and got donations from our club and other businesses in our area," added Uriah McCarson, a Triangle Hog Club member who also helped load the supplies into the rail car.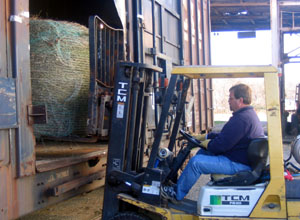 Among the items sent in the rail car were 34 four-by-four round bales of hay, 285 small square bales (35 pounds each) of first-cutting grass, 100 small square bales (70 pounds each) of first-cutting alfalfa, 30 8-foot round, wooden fence posts, and four 80-rod rolls of light-gage barbed wire.
Many of those involved in the project said they didn't think twice when asked to help.
"The Department came to us because they needed a rail siding to load the car," said Grow Mark's Stephen Miller. "We were more than happy to help."
Grow Mark Sales Representative Stephen Miller uses a forklift to load a round bale of hay onto the rail car.
(The American Horse Council is an equine industry advocacy group that aims to promote, protect and unify the industry around issues important to horse owners. Farm Aid is a nationwide organization dedicated to the continued success of family farms. The organization is best known for its annual concerts to benefit family farms.)