(BETHLEHEM TOWNSHIP) – Having grown the grand champion Christmas tree in New Jersey for the last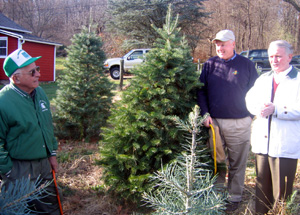 three out of four years, Robert Housedorf of Black Oak Farm today shared his secret to growing great Christmas trees with New Jersey Secretary of Agriculture Charles M. Kuperus – it is a matter of luck.
Agriculture Secretary Charles M. Kuperus, aided by state Senator Leonard Lance, helped usher in the Christmas tree-selling season in New Jersey by cutting down a white fir tree at Housedorf's Hunterdon County Christmas tree farm. Black Oak Farm donated the tree cut down by Secretary Kuperus and Senator Lance to North Hunterdon United Methodist Church in Hampton.
Robert Housedorf looks on as Secretary Kuperus and Senator Lance prepare to cut a white fir tree.
"Sharing the experience of cutting your own Christmas tree with your family and friends on a crisp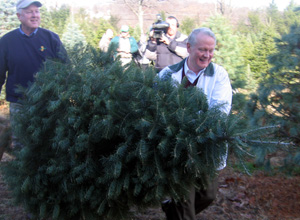 December day provides lasting memories and a sense of tradition," said Secretary Kuperus. "One activity that evokes the spirit of the holiday season is choosing and cutting down a fresh tree grown right here in the Garden State."
"The Christmas tree industry is a vital part of New Jersey's agriculture," said Senator Lance. "I am pleased that Bob Housedorf of The Black Oak Farm has won the Christmas Tree Growers' Association's contest for best Christmas tree in New Jersey. It is Bob's honor for the third time in four years and it is fitting that this year's Christmas tree is again from Bethlehem Township, Hunterdon County."
Secretary Kuperus and Senator Lance carry the tree off the lot.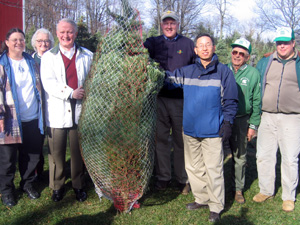 Housedorf was named Grand Champion of this year's New Jersey Christmas Tree Growers' Association annual competition for the best Christmas tree grown in the state. This is the fourth time in 13 years he has won the contest's best-in-show award. Housedorf says each year he selects 20 to 30 trees for his daughter and neighbors to judge, with their selection going to the competition. This year it was a Norway spruce.
"Every grower has a grand champion on his or her lot, but the secret is finding the great tree and recognizing it is good," said Housedorf. "The tree has to have the right color, exceptional shape and be free of bug or deer damage."
From Left to Right: Susan DeRemer, Faith Stasyshyn, Senator Lance, Secretary Kuperus, Pastor Kil Jae Park, Bob Housedorf, and Andy Asplaugh of the NJ Christmas Tree Growers Association.
Housedorf has grown Christmas trees on his nine-acre farm since 1958. Housedorf sells about 600 to 800 trees a season.
The Christmas tree industry is a significant part of New Jersey's diverse agriculture. The 2002 U.S. Census of Agriculture ranked New Jersey seventh in the nation in the number of Christmas tree growers. Of New Jersey's 9,924 farms, 1,167 were cut Christmas tree farms, covering 7,628 acres. Those New Jersey farmers provide more than 132,000 families with Christmas trees annually.
New Jersey has a place in Christmas tree history. In 1901, the first Christmas tree farm was begun with the planting of 25,000 Norway spruce near Trenton. These trees were harvested in 1908 and sold for $1.00 each.
"The growing of Christmas trees is a proud part of New Jersey's heritage and a component of the state's diverse agricultural industry," said Secretary Kuperus. "Families from New Jersey and even beyond our borders can enjoy Christmas trees from one of the many choose and cut farms located throughout the state."
The New Jersey Christmas Tree Growers' Association is a state organization of growers, professionals and industry leaders dedicated to the promotion and marketing of Christmas trees and related products. It was organized in 1950 and has 173 members throughout New Jersey.
The New Jersey Christmas Tree Growers' Association suggests the following when selecting and caring for your Christmas tree:
- Dress accordingly when shopping for that perfect tree. Wear comfortable, low-heeled shoes or boots for walking.
- Select a tree that best fits your needs. Consider your ceiling height as well as the weight of your ornaments when determining the size and type of tree you choose. Remember that in the field, the sky is the ceiling, making trees appear smaller than they actually are.
- Do a freshness test. Gently grasp a branch between your thumb and forefinger and pull it toward you. Very few needles should come off. Shake or bounce the tree on its stump. An excessive amount of green needles shouldn't fall to the ground. Some loss of interior brown needles is normal.
- If you're not going to decorate your tree right away, place it in a container of water and store the tree in a cool, shaded area, sheltered from the wind, such as in a garage.
- Before you bring your tree into the house, cut an inch from the stump. The fresh cut enables the tree to more readily take in water.
- Place the tree in a tree stand filled with one quart of water for every inch in diameter of the tree trunk. The average six-foot tree has a trunk with a four-inch diameter, meaning the tree stand should hold one gallon of water.
- Always keep the tree stand filled with water. Otherwise, a seal of dried sap will form over the cut stump and prevent the tree from absorbing any water. Fresh-cut trees absorb a pint to a quart of water each day. Check the water level daily and always keep it above the cut end of the tree.
- Keep your tree away from heat and draft sources like fireplaces, radiators and television sets. Be sure your light cords and connections are in good working order. Be sure to unplug lights before you go to bed or leave the house.
To locate a choose-and-cut farm near you, visit the Jersey Fresh website at
www.jerseyfresh.nj.gov
or the New Jersey Christmas Tree Growers' Association's website at
www.njchristmastrees.org
. For more information about Christmas trees, log on to the National Christmas Tree Association's website at
www.realchristmastrees.org
.