(TRENTON) – New Jersey Secretary of Agriculture Charles M. Kuperus today urged New Jersey residents to remember the plight of the hungry, not only at holiday time but beyond, as he helped serve a Christmas lunch to more than 200 people at the Goodwill Rescue Mission in Newark and distributed holiday food packages, including either a turkey or a ham, while visiting the food pantry at St. Vincent dePaul Society of St. Lawrence Church in Lindenwold.
"New Jersey citizens are very generous and do their best to ensure our hungry residents receive bountiful holiday meals at Christmas-time," said Secretary Kuperus. "However, those less fortunate need our help year-round, and with winter upon us, that need is amplified, as their resources must go to shelter and heat."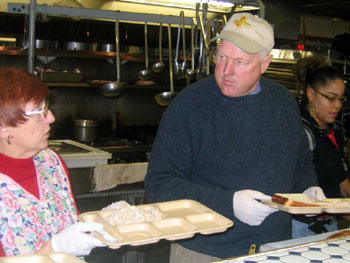 The Goodwill Rescue Mission, founded in 1896, provides three meals daily, seven days a week to about 300 people. The Mission also provides clothing, shelter, spiritual guidance and instruction to those whose lives have been impacted by alcohol, lack of work and other circumstances.
Secretary Kuperus gets instruction on serving meals from long-time Goodwill Rescue Mission volunteer, Lillian Moylan of Bayonne.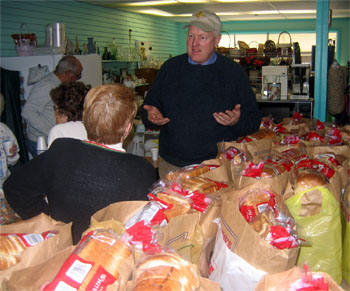 The St. Vincent dePaul Society of St. Lawrence Church has a weekly food distribution, serving about 80 families from Lindenwold, Stratford, Clementon, and Laurel Springs. Prior to the holidays, the organization also provides Christmas gifts for needy children. This year, they gave presents to 83 boys and 57 girls.
Secretary Kuperus speaks with volunteers at St. Vincent dePaul Society's food distribution.
The meals and packaged food furnished by the Mission and the St. Vincent dePaul Society include United States Department of Agriculture donated commodities from the Community FoodBank of New Jersey in Hillside and the Food Bank of South Jersey in Pennsauken. Those commodities are allocated through The Emergency Food Assistance Program (TEFAP), a federal program administered in New Jersey through the state Department of Agriculture (NJDA). The NJDA contracts with six emergency feeding organizations statewide to distribute federally donated food to needy individuals and families through a network of 660 local pantries, soup kitchens and homeless shelters.
"The Goodwill Rescue Mission offers help and hope to those in need who might not otherwise have access to hot meals and other services," said Secretary Kuperus. "The food pantry at St. Lawrence Church provides an immeasurable service to the community by letting needy families know they are not alone. The people who donate their time, money, and food items to make this possible at those two locations are to be commended."