(TRENTON) – The knock at the door took George Dealaman Sr. by surprise. There stood a man relating a tale of how he had sought out the Dealaman farm in Warren Township, Somerset County, just so he could say, "Thank you."
"He said he knew the heart valve that his brother in Texas had received came from a farm in Warren Township, New Jersey, and he had been looking all over for us because he wanted to thank us," Dealaman said.
The valve that saved the man's brother's life came from a pig slaughtered at the Dealaman farm, where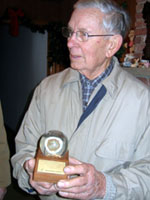 roughly 200 pigs per day, along with numerous sheep and goats, are prepared for sale to largely ethnic-market customers such as Chinese, Portuguese, Romanian and Greek restaurants, delis and butchers.
In a move to maximize the use of the animals processed by the farm, the Dealaman operation has contracted with two firms – one each in New Jersey and California – to supply pig hearts, or just the heart valves, for use in medical procedures.
"In the '70s, a firm from California contacted us and said they wanted to buy the heart valves from our pigs," Dealaman said. "That's how it started and we've been doing it ever since."
George Dealaman Sr. displays an encased pig heart valve like the ones the farm supplies to two medical firms.
The Dealaman farm, which recently celebrated 100 continuous years of operation, is a model of how an established agricultural operation can adapt to changing markets and take advantage of emerging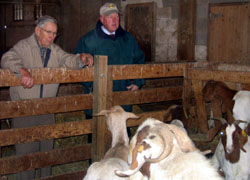 opportunities, said New Jersey Secretary of Agriculture Charles M. Kuperus as he toured the farm with State Board of Agriculture members Phil Prickett and Milton "Woody" Eachus.
"The Dealaman family truly understands what it means to maintain farm viability by recognizing the changes in the world around you and meeting the needs of those new marketplaces," said Secretary Kuperus. "From customizing their meats for ethnic tastes to branching out into the medical marketplace, this is an operation that has seized opportunities and has not let any grass grow under its feet."
George Dealaman Sr. and Secretary Kuperus check out the goats at the Dealaman Farm.
Four generations have worked the farm, which George Sr.'s father started in 1905. Now 87, George Sr. is j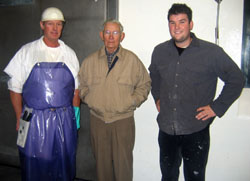 oined by his son, George Jr., and grandsons.
"I've been working here since I was 3," said grandson Shane Dealaman, a 23-year-old whose future plans include "preserving the (farm) lifestyle and keeping this place the way it is."
Much has changed about the area surrounding the farm since George Sr.'s father first started operating. The formerly rural area is now a bustling suburb of tony homes and major businesses. But the 35 acres of the main Dealaman farm on Mountainview Road stands as a vital reminder of the area's agricultural past.
Three generations of Dealamans-George Jr., George Sr., and Shane.
"The last dairy farm in this area went out about eight years ago," said George Sr., who also chairs the Somerset County Agricultural Development Board. "We've been here for a hundred years and we still do about 900 to a thousand pigs a week. And we have more demand than supply this year."
A large part of the Dealaman business comes from suppliers to Chinese restaurants, who want the pigs at a certain weight, not too lean, not too fat. The growing demand for goat meat among Hispanic and Muslim populations in the New Jersey-New York area has led to a greater emphasis on goats as well.
The emerging meat goat market is the focus of a Department of Agriculture project aimed at interesting new and young farmers in entering the market.
"(Raising meat goats) can be a profitable start-up for a young farmer if he doesn't mind a little hard work," George Sr. said. "We get the small goats at about three to four months. The customers like them to be around 25 pounds (when purchased for slaughter). One buyer out of New York, they'll do 300 to 400 goats around Easter time.
"I never expected to see goats at $100 apiece. But now (some auctions) are getting $100 to $110 each for them."
Sheep and lambs also comprise a piece of the Dealaman business. Illustrating the changing nature of agriculture, George Sr. said the family no longer bothers with shearing the sheep.
"Back in the '50s, you could take the wool out to Lancaster (Pennsylvania) and at one time you'd get $1.20 a pound for it," he said. "Now you can't give it away."
Shane Dealaman expects changes in the industry to further shape how the farm progresses beyond its centennial year. He is now taking a course in Spanish to better communicate with the primarily Costa Rican workers at the farm.
"My plans are to expand," he said. "I want to keep my kids and my grandkids in this even after I'm gone. There's a lot of pride in a family farm like this."