DEPARTMENT OF AGRICULTURE, NJ RESTAURANTS TEAM TO PROMOTE LOCALLY GROWN AND HARVESTED FARE
New Signs Will Tell Restaurant Customers Jersey Fresh, Jersey Seafood Served
For Immediate Release: June 26, 2006
Contact: Lynne Richmond  (609) 292-8896 



(TRENTON) – New Jersey Agriculture Secretary Charles M. Kuperus and the New Jersey Restaurant Association today unveiled a new signage program that will notify restaurant patrons that the Garden State's bounty is being served in an establishment.

Over the next few weeks, signs will be going up in New Jersey restaurants that proclaim they are "proud to serve New Jersey produced and harvested products when in season."  The signage will appear as customers enter a restaurant and bear the Jersey Fresh and Jersey Seafood logos.  Pictured on the signs is a plate with a New Jersey seafood entrée and Jersey Fresh produce on the side.

"New Jersey restaurateurs know that locally grown and harvested Jersey Fresh and Jersey Seafood products ensure their diners are getting the freshest taste experience," said Secretary Kuperus. "By displaying these new signs, restaurants show their commitment to providing customers with the highest quality food while also supporting our Garden State farmers and fishermen. This effort further reinforces that, from the farm to the table, New Jersey's agricultural products are the cornerstone of any good meal."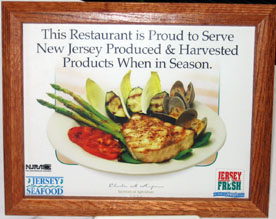 The New Jersey Restaurant Association (NJRA) membership approved a resolution last year pledging to work with the Department of Agriculture to offer customers New Jersey produce and seafood when in season and available.  The NJRA is a 1,200-member trade association representing restaurants in the state. 

"New Jersey's restaurant and hospitality industry is a fantastic network of quality, diverse operations that can benefit from using local products and promoting the Jersey Fresh and Jersey Seafood brands," said Deborah Dowdell, President of the New Jersey Restaurant Association.  "The Jersey Fresh program provides a win-win situation for the foodservice industry, our farmers and the State.  The NJRA is proud to be partnering with the New Jersey Department of Agriculture on this effort.  It's a continuation of our commitment proclaimed in last year's resolution passed by the NJRA Board of Directors to promote and encourage the use of Jersey Fresh products."

The NJRA has notified 3,000 New Jersey restaurants to encourage them to use Jersey agricultural and seafood products and display the signs.  There soon will be a page on the Jersey Fresh website at www.jerseyfresh.nj.gov where consumers can find out which restaurants are serving Jersey Fresh and Jersey Seafood.  If a restaurant is already using local products and wants to be involved in the signage program, they may contact the NJRA at 1-800-848-MENU (6368).  

The first sign was placed in The Frog and The Peach in New Brunswick.  Owner Betsy Alger, who has been committed to using locally grown and harvested products in her restaurant, says restaurants in the state do not have to look far to find what they need to provide patrons with fresh, unique dishes.

"New Jersey has a heritage of local farms that provide a wide variety of fruits and vegetables -- from our delicious peaches, blueberries and cranberries to our famed beefsteak tomatoes and corn," said Alger.  "Our customers appreciate the quality and just-picked freshness of the local products that we use on our menu.  Our staff is proud to work with ingredients that are, without a doubt, as fresh and as real as can be."

Jersey Fresh is the 22-year-old nationally-known quality grading and promotional program for produce and other agricultural products grown in New Jersey.  Jersey Seafood is a newer branding and promotional program for seafood harvested by New Jersey fishermen.

New Jersey's food and agriculture industry, which includes restaurants, produces $82 billion a year in revenues, making it the third largest economic sector in the state. The state is among the top producers in the nation for blueberries, cranberries, sweet corn, tomatoes, spinach, peaches, bell peppers, cucumbers and squash.  New Jersey also is a leading producer of surf clams in the nation and the world.

"Restaurant owners can only benefit by utilizing the agricultural resources right at their doorstep," said Secretary Kuperus.  "It is a partnership that will pay off for both the producers and those who make a living preparing food.  Patrons also are the winners because when they see that a restaurant is serving Jersey Fresh products, they will know the establishment is committed to the high quality standard and fresh taste Jersey Fresh demands."

For more information on the New Jersey Restaurant Association, visit www.njra.org.  Information about Jersey Seafood can be found at www.jerseyseafood.nj.gov.  The Jersey Fresh website is located at www.jerseyfresh.nj.gov.