NEW JERSEY SEAFOOD RECIPE CARDS AVAILABLE
Displays Set Up at Local Supermarket Seafood Counters
For Immediate Release: August 18, 2006 
Contact: Lynne Richmond  (609) 292-8896
                      

(TRENTON) – When visiting the local supermarket, consumers may soon notice displays of Jersey Seafood recipes at the stores' seafood counters.  The new recipe cards are developed and distributed by the New Jersey Department of Agriculture to help promote local seafood.

"About 100 different species of fin and shellfish are harvested annually by New Jersey fishermen." said New Jersey Secretary of Agriculture Charles M. Kuperus.  "Many consumers in the state may be hesitant to prepare seafood dishes at home, but the fact is that seafood makes a quick, healthy, and delicious meal.  We hope the recipe cards will help consumers see how easy it is to enjoy New Jersey seafood."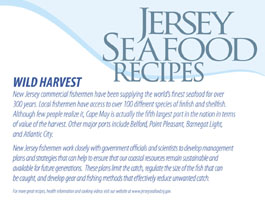 The recipe cards have been provided to retailers throughout the state.  One set of cards features the five most popular wild harvest seafoods while the second set focuses on varieties that are farm-raised.  These recipe cards provide information about production and management, health benefits of seafood consumption, as well as some quick and easy recipes. The recipe cards feature some of the best seafood that makes visits to the Jersey Shore a memorable experience for many, including monkfish, scallops, clams, oysters, tuna, swordfish and flounder.

Many of the recipes couple locally caught seafood with Jersey Fresh vegetables.  This complements the Departments efforts to expand the Jersey Fresh program. A new Jersey Seafood campaign will be available later this year and will provide commercial fishermen and aquaculturists the same high level of product recognition, branding, and quality standards for Jersey Seafood, as the Jersey Fresh program.  This year, Jersey Seafood was included in the Jersey Fresh television advertising campaign.  Short commercials featuring summer flounder and clams have recently been broadcast.   

New Jersey has a significant seafood industry.  In 2004, New Jersey commercial fishermen landed a record 187 million pounds of seafood valued at almost $146 million.  As the world's leading supplier of surf clams, ocean quahogs and mackerel, New Jersey commercial fishermen have been providing seafood to the world for over 300 years.

In 2004, Cape May became the fifth largest port in the nation in terms of dollar value, landing $68.1 million.  Other important ports include Atlantic City, Belford, Point Pleasant, Port Norris and Barnegat Light.

 In 2004, the average per capita seafood consumption in the United States was 16.6 pounds.  Most of that seafood is consumed in restaurants.  The majority of seafood consumed in the United States is imported.

Studies have shown there are health benefits to eating fish and shellfish.  The omega-3 fatty acids found primarily in seafood may play an important role in reducing the risk of diabetes, enhancing bone density, adding to neonatal development, improving the appearance of the skin, reducing depression, aiding nerve functions, delaying the onset and severity of Alzheimer's disease and reducing the inflammation that is found in rheumatoid arthritis, ulcerative colitis, and Crohn's disease.

For more recipes and seafood information, visit the Jersey Seafood website at www.jerseyseafood.nj.gov or the National Fisheries Institute at www.aboutseafood.com.