DIRECTOR OF DINING SERVICES AT NJIT NAMED NEW JERSEY'S TOP SEAFOOD CHEF
Pan Seared Black Bass Recipe Catapults Chef to Victory and Chance at National Crown
For Immediate Release: January 16, 2008
Contact: Lynne Richmond
(609) 633-2954

(MAYS LANDING) – Peter J. Fischbach, the executive chef and Food Service Director for Gourmet Dining Services at the New Jersey Institute of Technology in Newark, is the winner of the 2008 Jersey Seafood Challenge and will represent New Jersey at the Great American Seafood Cook-off in New Orleans in August.

In announcing Fischbach the state's top seafood chef following the day-long competition at the Academy of Culinary Arts at Atlantic Cape Community College in Mays Landing, New Jersey Secretary of Agriculture Charles M. Kuperus said Fischbach and his peers are discriminating chefs who choose Jersey Seafood for its high quality.

"By partnering with the state's chefs and restaurants, we want to show that New Jersey has top quality seafood that is not only special enough for fine restaurants but is quick and easy to prepare for home cooks," said Secretary Kuperus.  "There also are 100 different species of fish and shellfish caught or harvested by local fishermen and fish farmers, so there is something for everyone's taste, not to mention the health benefits of including seafood in your diet."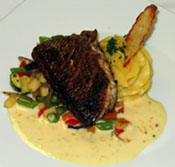 Fischbach competed against 10 other professional chefs and the winner of a student competition at the Academy of Culinary Arts in the cook-off sponsored by the New Jersey Department of Agriculture.  His winning dishes were his signature recipe, pan seared local black bass in a citrus-ginger sauce with sweet potato puree and a sauté of seasonal local produce and his "Down the Shore" platter, which is easy for home cooks to prepare, Nona's Friday Night Fish Feast.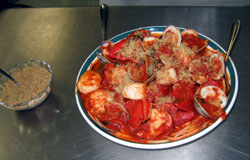 The "Down the Shore" recipe came from Fischbach's grandmother, who would prepare it when the family would vacation at the Jersey Shore for two weeks each summer. It includes clams, lobster, scallops, and crab in a tomato sauce served over pasta. 

Fischbach, a Toms River resident, has 20 years in the food service industry.  He attended the Academy of Culinary Arts and owned a restaurant in Long Branch.  He has had recipes published in Gourmet Magazine as well as other publications and has taught cooking classes.  He is a member of the American Culinary Federation.

"It is an honor to follow in the footsteps of esteemed chefs Jim Weaver of Tre Piani Ristorante in Princeton and Klaus Muller, former Dean of the Academy of Culinary Arts, both Jersey Seafood winners, who are two well established chefs who have added so much, not only to the profession but to our state, as well," said Fischbach. "I will do my best in New Orleans to showcase all the wonderful seafood and produce that come from New Jersey and hopefully bring home the gold."

The Great American Seafood Cook-off is limited to 20 chefs with the champion being named King or Queen of American Seafood.  The cook-off is televised by the Food Network and is part of the Louisiana Foodservice Expo.

The first runner-up in Jersey Seafood Challenge was Jahvin Carlough of JP Prime Steakhouse in Wildwood, a graduate of the Academy of Culinary Arts.  Third place went to the student competition winner, Michael Inferrera, who also is a chef at Caesars-Atlantic City.

Other participants included: Joyce Bengyel of Tastefully Yours by Joyce, Matawan; Franco Brattoli of the Columbia Inn, Montville; Joseph Carratura of Flik Independent Schools at Princeton Day School; Robert Dick of Dick's Dock Restaurant, Metuchen; Thomas W. Drake of Christopher's Restaurant at the Heldrich Hotel, New Brunswick; Michael Miller of Michael and Kathy's Deli, Sayreville;  Ray Przelomski of Compass Group North America/Canteen Dining, Leonardo; Graham Weber of Seaview Resort and Spa, Galloway; and Douglas Wong of Catered to You, Oakhurst.

"We appreciate these chefs who gave their time to compete and bring attention to New Jersey grown and harvested products, as well as highlighting this important profession of being a chef," said Secretary Kuperus. 

Organizations helping to coordinate the Jersey Seafood Challenge included:  Atlantic Cape Community College; Garden State Seafood Association; Slow Food-New Jersey; Eat-Drink New Jersey; New Jersey Restaurant Association; New Jersey Marine Sciences Consortium and New Jersey Sea Grant; Rutgers Cooperative Extension; and New Jersey Chapters of the American Culinary Federation.

The Seafood Challenge continued the partnerships between the Department and these groups.  For example, the New Jersey Restaurant Association membership in 2005 approved a resolution pledging to work with the Department of Agriculture to offer customers New Jersey seafood and produce when in season and available.  The NJRA is a 1,200-member trade association representing restaurants in the state.  The Department then developed signage that the restaurants could display that declared, "This restaurant is proud to serve New Jersey produced and harvested products when in season."

New Jersey has a vibrant seafood industry, with the value of the 2006 catch $145.6 million.  The National Marine Fisheries Service estimates that for every one dollar of landed value, six dollars are generated in the overall economy.

New Jersey is home to six major commercial fishing ports, with four ranked among the top fifty ports in the nation in terms of value of the harvest:  Cape May brought in 89.2 million pounds valued at $46.3 million in 2006; Barnegat Light landed $25.5 million of fish, primarily sea scallops and monkfish; Point Pleasant's 2006 catch of 25.8 million pounds was valued at $22.6 million; and Atlantic City brought in $24.2 million, mostly ocean quahogs and surf clams.

The top species by dollar value harvested in New Jersey included:  sea scallops -$58.5 million; surf clams-$25 million; hard clams-$7.6 million; blue crabs-$6.0 million; ocean quahogs-$5.9 million; fluke-$5.0 million; monkfish-$4.5 million; Atlantic mackerel-$9.3 million; longfin squid $1.8 million; and American lobster- $2.5 million. 

For more information about New Jersey seafood, visit the Jersey Seafood website at www.jerseyseafood.nj.gov.