NJ DEPARTMENT OF AGRICULTURE LAUNCHES EXPANDED JERSEY SEAFOOD BRANDING PROGRAM
New Logo to Highlight High Quality of Local Catch, Aquacultured Products
For Immediate Release: April 22, 2008
Contact: Lynne Richmond
(609) 633-2954

(POINT PLEASANT) – Seafood produced by New Jersey fishermen or aquaculturists may now bear the new Jersey Seafood logo, identifying local seafood and helping to assure quality. 

A series of logos with specific seafood items pictured was unveiled today by New Jersey Secretary of Agriculture Charles M. Kuperus at the Fishermen's Cooperative Dock in Point Pleasant Beach.  To be able to use the logos, farm-raised and wild caught seafood must meet a specific set of standards, which consider environmental impact, product quality and food safety.

"Consumers will now be able to easily identify in their local supermarket or fish market fish and shellfish that was caught or grown by New Jersey fishermen or aquatic farmers," said Secretary Kuperus.  "This program is not just about promotion but about quality assurance, since branded seafood must comply with a rigorous set of standards.  It also addresses sustainability, since seafood must be harvested according to state, regional, federal and international regulations designed to help ensure the availability of this resource for future generations."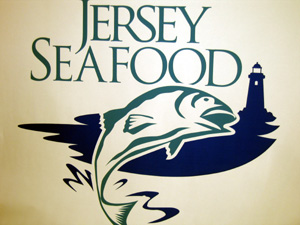 The Jersey Seafood brand is modeled after the state's successful Jersey Fresh branding program for produce and other products.  The State Board of Agriculture recently approved new rules to permit aquatic farmers, commercial seafood harvesters and packers/processors of New Jersey seafood commodities to become licensed by the New Jersey Department of Agriculture and to market their products using the Jersey Seafood logo.

"No visit to the Jersey shore is complete without having a terrific seafood meal," said Linda O'Dierno, Department of Agriculture Fish and Seafood Coordinator.  "With the Jersey Seafood brand, people can bring that positive experience home and know that they are purchasing high quality seafood products that have been grown or harvested in an environmentally-friendly manner."

United States consumers spent about $69.5 billion for seafood products in 2006.  Of that total, $46.5 billion was spent in food service establishments and $22.7 billion for home consumption.  In addition, between 82 and 88 percent of all seafood consumed in the U.S. is imported.

"The Jersey Seafood branding program brings a recognition to the public that there is locally caught seafood available," said James Lovgren, a spokesman for the Fishermen's Dock Cooperative.  "Our 16 members, some of whom are third or fourth generation commercial fishermen, hope that Jersey Seafood is as successful as the Jersey Fresh brand.  If we can bring that type of awareness to our products, it will be a good deal for New Jersey's fishing industry."

Point Pleasant is one of New Jersey's six major commercial fishing ports, ranking among the top 50 ports in the nation in terms of value of the harvest.  In 2006, Point Pleasant's catch of 22.6 million pounds of seafood was valued at $25.8 million.

The total value of New Jersey's commercial catch in 2006 was $146 million, according to the National Marine Fisheries Service.  It is estimated that for every one dollar of landed value, six dollars are generated in the overall economy, bringing the value of the wild harvest to $876 million.

Almost 100 different species of finfish and shellfish were landed in 2006.  The top harvest by dollar value was:  sea scallops, $59 million; surf clams, $25 million, Atlantic mackerel, $9 million; hard clams, $7.6 million; blue crabs, $6 million; ocean quahogs, $6 million; fluke, $5 million; monkfish, $4.5 million; Atlantic herring, $3 million; and American lobster, $2.5 million.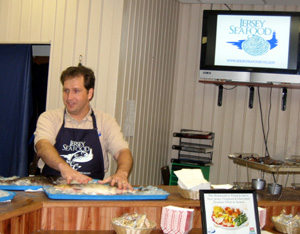 New Jersey is one of the leading suppliers of surf clams, Atlantic mackerel and ocean quahogs to both the nation and the world.  Ocean quahogs and surf clams are used in processed products such as chowders, sauces, dips and breaded clam strips.

Joe Myers of the NJDA demonstrates the quality standards finfish must meet to be part of the Jersey Seafood Branding Program

According to the 2005 Census of Aquaculture, there were 87 aquatic farms in New Jersey.  Hard clams were the principal farmed seafood with $2.1 million in sales.

Currently, there are 186 licensed aquatic farmers in the state.  About one hundred licensees farm hard clams, mostly along the Atlantic Coast and approximately 40 farm oysters, the majority of which are located in the Delaware Bay.  New Jersey aquaculture farms reported sales of $3.7 million last year, with mollusks accounting for the majority of sales.

The Department has partnered with New Jersey restaurant owners and chefs in using and promoting Jersey Seafood.  More than 350 restaurants in the state display a sign that they have pledged to serve Jersey produced or harvested products when they are in season. 

In addition, the Department sponsored a Jersey Seafood Challenge in which 12 chefs competed for the title as the state's top seafood chef, preparing their signature seafood dish and a dish that home cooks could easily prepare.  Winner Peter Fischbach, head of dining services at New Jersey Institute of Technology, will represent the state at the Great American Seafood Cook-off in New Orleans in August.

The Department has a Jersey Seafood web site at www.jerseyseafood.nj.gov that provides consumers with a wide array of information on the Garden State's seafood industry and seafood products.  They also can access a bi-weekly seafood availability report at www.jerseyseafood.nj.gov/seafoodavailability.pdf.