THINK LOCALLY-GROWN WHEN PURCHASING PLANTS THIS SPRING
Ag Secretary Marks National Agriculture Week By Urging Support for NJ's Horticulture Industry
For Immediate Release: March 17, 2010
Contact: Lynne Richmond
(609) 633-2954

(TRENTON) – New Jersey Secretary of Agriculture Douglas H. Fisher today urged New Jersey residents to buy locally-grown as they begin planting their gardens this spring or as gifts for the spring holidays.

Fisher celebrated National Agriculture Week at La Rosa Greenhouses in Woodstown to call attention to the value of agriculture in our daily lives and recognize the abundance provided by agriculture.

"National Agriculture Week is an opportunity to talk about how agriculture touches the lives of every New Jersey resident daily, from the food we need to survive to the beautiful landscapes of our neighborhoods and the flowers and plants that brighten our everyday lives," said Secretary Fisher.  "Agriculture also is important to the economy, generating revenues and creating employment opportunities.  We ask that residents support our farmers by purchasing from local growers."

Fisher toured La Rosa's fields and greenhouses as they geared up for spring.  Hydrangeas and pansies were ready for distribution and bedding plant planting was underway.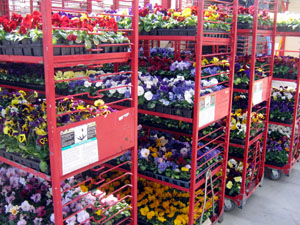 La Rosa Greenhouses is a 32-acre wholesale grower of mums, pansies, hydrangeas, poinsettias, bedding plants, hanging baskets, potted plants, perennials, vegetables and herbs.  The operation includes 6 acres of greenhouses and a small, seasonal retail market.  Carmen La Rosa and his wife, Charlene, opened the business in 1980.

"There are a lot of good growers in New Jersey and not only are we in this business to make a living, but we want to make things pretty," said Carmen La Rosa, who grew up on a farm in Swedesboro.  "As growers, we must always plan ahead for the newest trends and provide the public with what it wants, as well as try to do what no one else is doing.  So, it's important to support New Jersey farmers.  We're the Garden State and it should stay that way."


La Rosa said his business is known for its combo colored pots – containers with unique mixtures of different colored flowers and fill plants.  He said in the summer they grow 21 acres of pole lima beans and are the largest grower of pole lima beans in the United States. 

Horticulture is the largest sector of New Jersey Agriculture with greenhouse, nursery, Christmas tree and sod businesses reporting $460.3 million in revenues in 2008. 

Secretary Fisher and Carmen La Rosa among the hydrangeas in one of La Rosa's greenhouses

National Agriculture Week is taking place March 14-20, with National Agriculture Day being celebrated on the 20th, marking the first day of spring.  The first National Agriculture Day was organized in 1973 by the National Agri-Marketing Association and the American National CattleWomen.  Since 1979, the Agriculture Council of America has coordinated the national celebration.