NEW JERSEY BEEKEEPERS FACING CHALLENGES AFTER WINTER HONEYBEE DEATHS
NJ Department of Agriculture Focuses on Education

For Immediate Release: June 3, 2010
Contact: Lynne Richmond 
(609) 633-2954

(TRENTON) – New Jersey beekeepers have been facing increasing numbers of winter death loss of their colonies due to a number of factors including rainy weather and parasitic mites, according to New Jersey State Apiarist Tim Schuler, who today gave an update on the status of the state's bee population during a new beekeepers class at Rutgers EcoComplex in Bordentown.

Over this past winter, losses of bee colonies in New Jersey totaled 35 percent.  In winter 2008-2009, there was a 34 percent loss and winter 2007-2008, the loss was 17 percent.  Bee loss is a national problem; a recent survey showed losses of managed honey bee colonies nationwide totaled 33.8 percent from all causes for winter 2009-2010.

"The best way to preserve our state's bee population is to continue to educate both newer and veteran beekeepers on how to prevent problems before they arise," said Carl P. Schulze Jr., Director of the Department of Agriculture's Division of Plant Industry.  "Honey bees are vitally important to agriculture for pollination of crops such as blueberries, apples, cranberries and pumpkins."

Schulze attended the Bee-ginner's Beekeeping class, offered through Rutgers University's Office of Continuing Education, taught by Schuler and Bob Hughes, also from the Department of Agriculture. 

Schuler's main job as State Apiarist is to inspect bee colonies throughout the state.  His inspections yielded a large number of dead bee colonies this past winter.  Bee samples collected from those colonies were analyzed at the United States Department of Agriculture lab in Beltsville,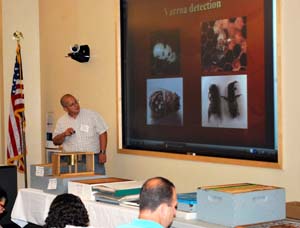 Maryland.  Results showed very high levels of Nosema disease along with varroa and tracheal mites.  Nosema causes diarrhea in honey bees and a general unthriftiness, which weakens the bees and their colonies.  Varroa mites are parasites that suck the blood from adult and young bees, weakening and shortening the lifespan of the ones on which they feed.

Tim Schuler teaching the Bee-Ginner's Beekeeping Course on June 3rd.

Schuler has developed recommendations for beekeepers and has been speaking at New Jersey Beekeepers Association branch meetings throughout the state, discussing the timing of mite treatments and the damage mites cause in the hives.  He also is continuing to encourage new and part-time beekeepers.

"I am focusing on developing sideline beekeepers who supplement their income through beekeeping," said Schuler.  "Some are honey producers but others are pollinators, providing pollination services to New Jersey farmers."

There has been great interest in beekeeping since the Department of Agriculture offered an incentive program in 2006 and again in 2008.  A requirement of receiving startup beekeeping equipment was completion of the Bee-ginners Beekeeping course through Rutgers Office of Continuing Education.  Since 2006, 1,000 people have taken the course, with 100 of those receiving the free equipment. 

Last year, Schuler introduced an advanced beekeeping class, "Beyond the Basics," also offered through the Office of Continuing Education  Two classes were held and were filled at 40 people each.  This year, one advanced class will be held on June 18 and 19th.  A third beginning beekeeper class is scheduled for October 14-16.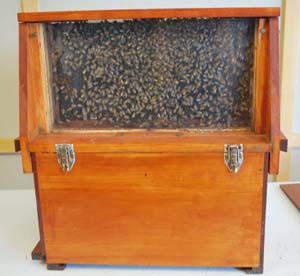 New Jersey has about 190 farms with 9,000 bee colonies that yielded 288,000 pounds of honey with a production value of $556,000 in 2009.  That compared with 2008 when 360,000 pounds were collected with a value of $583,000.

For more information on the New Jersey Department of Agriculture Bee Inspection program, visit www.nj.gov/agriculture/divisions/pi/prog/beeinspection.html.

The honeybee is New Jersey's official state insect.  Governor Brendan Byrne signed the law making that designation in 1974 after a Trenton second-grade class lobbied to honor the honey bee.