JERSEY FRESH BLUEBERRIES NOW AVAILABLE
For Immediate Release: June 17, 2010
Contact: Lynne Richmond            
(609) 633-2954

(TRENTON) – New Jersey Secretary of Agriculture Douglas H. Fisher today announced that blueberries, the official state fruit, are now in season and available at local farm markets, roadside stands, pick-your-own farms and supermarkets.

"The wait is over for New Jersey blueberries – the harvest began last week, a bit earlier than usual due to warm early season growing conditions," said Secretary Fisher.  "Jersey Fresh blueberries taste great and are part of a healthy diet due to their antioxidants."

New Jersey is one of the country's top cultivators of blueberries.  According to the National Agriculture Statistics Service of the United States Department of Agriculture, 53 million pounds of blueberries were produced last year on 7,700 acres with a value of $65.3 million. 

New Jersey ranks second in the nation in blueberry production.  Atlantic and Burlington Counties are the main harvesters of the state fruit, accounting for 95 percent of the blueberry acres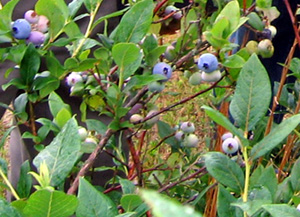 harvested in 2009.

The major varieties of blueberries grown in New Jersey include Blue Crop and Duke, named for one of the founders of Atlantic Blueberry Company in Hammonton.

There are many reports as to the health benefits of blueberries.  United States Department of Agriculture researchers found that blueberries ranked first in antioxidant activity in comparison to 40 other fresh fruits and vegetables.  Antioxidants help neutralize harmful by-products of metabolism called "free radicals" that are associated with cancer and other age related diseases.

Blueberries also are a large part of New Jersey's agri-tourism industry. With pick-your-own farms in 10 counties throughout the state, picking blueberries can also be a fun family activity.  To find a pick-your-own blueberry farm or markets carrying Jersey Fresh blueberries, visit the Jersey Fresh website at www.jerseyfresh.nj.gov or www.visitnjfarms.org.

The Department offers these tips for selecting blueberries:
Look for blueberries that are plump and fresh looking;
Pay particular attention to their color; they should be blue, black, bluish-black or purple;
Blueberries have a gray, waxy deposit on the skin called bloom. The bloom is a protective coating, so don't wash blueberries until ready to use;
Freeze blueberries on a cookie sheet and then place into a freezer storage bag;
Blueberries spoil quickly if left at room temperature, but can be stored in the refrigerator for three days; 
Avoid containers that have juice stains on them, a sign the berries are crushed;
Wrinkled fruit means they have been stored too long; while soft, watery fruit means the berries are overripe.