FALL: A GREAT TIME FOR PLANTING IN NJ
Jersey Grown Trees, Shrub, Perennials Available at Local Garden Centers, Landscapers

For Immediate Release: October 1, 2010
Contact: Lynne Richmond
(609) 633-2954

(QUINTON TOWNSHIP) – New Jersey Secretary of Agriculture Douglas H. Fisher and Robert Zentner, President of the New Jersey Nursery and Landscape Association today visited Quinton Nursery in Quinton Township to announce that fall is more than just mums; it is an ideal time of year to head to your local garden center or call your certified landscape professional to plant perennials, trees and shrubs.

"Horticulture is New Jersey's largest agriculture sector, with a variety of businesses to choose from in every county for a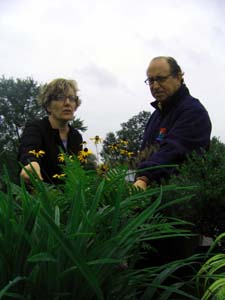 supply of top quality plant material that can be planted right now that will ensure a beautiful, full landscape next spring," said Secretary Fisher.  "Look for the Jersey Grown label, so you know you're getting something grown here in New Jersey by one of our quality growers."

The Department of Agriculture developed the "Jersey Grown" program several years ago to allow growers to highlight plant material grown in New Jersey, signifying that it is accustomed to the state's soil and growing conditions, has been inspected for quality and is pest and disease-free.


Quinton Nursery owner Suzanne VanSciver shows Secretary Fisher some landscape plants that, if planted in the fall, will thrive in the spring.

Founded in 1915, the New Jersey Nursery and Landscape Association (NJNLA) is a non-profit trade organization representing landscape contractors, landscape designers, landscape maintenance contractors, retail garden centers as well as wholesale production nurseries.

NJNLA President Robert Zentner said most of our state's local independent garden centers bring in fresh, fall Jersey Grown nursery stock, such as winterberry holly, burning bush, late flowering hydrangeas and fall flowering perennials to freshen up the look of residents' yards.

"Jersey Fresh has long been associated with the very best produce on the east coast (or in my opinion, the entire country), and now Jersey Grown plants have the same great reputation," said Zentner.  "We, as growers are situated in the best area to locally grow and distribute our shrubs and trees. We have a long growing season that allows growers to produce hardy plants than can be marketed over a wide range of states. Plants grown in New Jersey are better acclimated and more likely to thrive when planted. In addition, every Jersey Grown purchase that you make will stimulate the economy in local communities within the Garden State."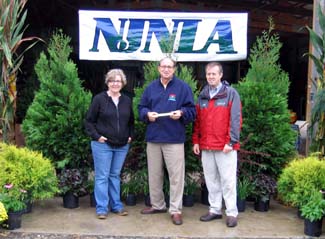 Suzanne VanSciver, Secretary Fisher and Robert Zentner show the many plants that are perfect for planting in the fall.

Fall planting generally allows soils to hold moisture well and with the onset of cooler nights, root development is enhanced with the warmer daily temperatures that are expected. A combination like this can't be beat and establishes a healthy adjusted root system, as the plant prepares for winter dormancy. Proper mulching around the plants retains moisture, reduces weed competition and will increase the likelihood of plant survival in the spring to come.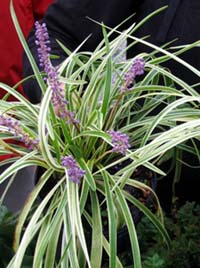 Quinton Nursery is owned by Suzanne and Mark VanSciver, a fourth-generation farmer, who grows Liriope, shrubs, perennials, and ornamental grasses.  She has 53 cold frames on 60 acres, growing primarily Liriope, a plant used by landscapers in the area, but usually purchased from southern growers.  She started the business in 1998 to provide landscapers and nurseries with a Jersey Grown product.

"In the fall, usually the ground is moist so plants can get rooted and are all set for next year," said VanSciver.  "By putting in some work now in your garden, the payoff will be a fabulous display come spring."

For more information about the Jersey Grown program or to find a local nursery or garden center, visit www.jerseygrown.nj.gov. 

For more information about the New Jersey Nursery and Landscape Association, visit www.njnla.org.