SECRETARY OF AGRICULTURE HIGHLIGHTS NEW GUIDE TO LOCALLY GROWN IN CENTRAL JERSEY
For Immediate Release: September 14, 2010
Contact: Lynne Richmond
(609) 633-2954

(TRENTON) - New Jersey Secretary of Agriculture Douglas H. Fisher was presented today with a unique guide to farms, farmers' markets, Community Supported Agriculture farms and wineries in the six central New Jersey counties.

The guide, "Farm Markets of Central New Jersey," was created over the past year and a half by volunteers of the Conservation Committee of the Garden Club of Princeton. The 80-page book tells where to find local produce, meats, poultry, cheese, wine and what's in season in Burlington, Hunterdon, Mercer, Middlesex, Monmouth and Somerset Counties.

"Central New Jersey is a region rich with a wide variety of agriculture where consumers can purchase directly from farmers," said Secretary Fisher after being presented with the book at a ceremony at the Trenton Farmers Market in Lawrence Township. "The guide looks to be a very handy resource, complementing the Department's own Jersey Fresh and agritourism websites."

The guide lists 199 sources of local foods, all within an hour's drive within the six counties.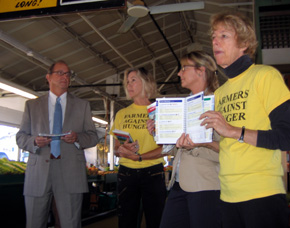 "We began to develop the guide because we felt there was a growing interest in supporting local farms and farmers," said Kim Rizk, who co-chaired the project with Pam Mount. "We wanted to present the book to Secretary Fisher to let him know that the Garden Club supports the Department's efforts in preserving New Jersey agriculture and open space."

Secretary Fisher, Judy Grignon from Farmers Against Hunger, Kim Rizk and Pam Mount display the guide while at the Trenton Farmers Market.

The guide is being sold at Terhune Orchards, Henderson Sotheby's International Realty, and Jane Consignment Shop in Princeton and a variety of community farmers markets. All proceeds from the $10 book are going to Farmers Against Hunger, a group that distributes donated produce from New Jersey farmers to hunger relief organizations around the state. For more information about Farmers Against Hunger, visit www.njagsociety.org/fah/index.htm.

For more information about the guide, send requests to farmmarketscnj@gmail.com.

For community farmers markets, roadside stands and pick-your-own listings, visit www.jerseyfresh.nj.gov. For agritourism opportunities in New Jersey, visit www.visitnjfarms.org.