NJ WINERIES SHIPPING THIS HOLIDAY SEASON
Secretary of Agriculture Visits Winery to Highlight New Law Allowing Wine Shipping

For Immediate Release: December 7, 2012
Contact: Lynne Richmond
(609) 633-2954

(PILESGROVE) – New Jersey Secretary of Agriculture Douglas H. Fisher today visited Auburn Road Vineyards in Pilesgrove to showcase New Jersey wines that can now be mailed as gifts this holiday season directly from the winery.

Governor Christie signed a law in January permitting direct shipping by New Jersey wineries, joining 38 other states in the nation that allow small wineries to mail their products to customers.

"New Jersey's wineries produce some of the best wines in the world that have placed well in international competitions," said Secretary Fisher. "The wine shipping law makes these wonderful wines more readily available to those already familiar with their high quality and taste, as well as those wanting to experience great New Jersey products across the country."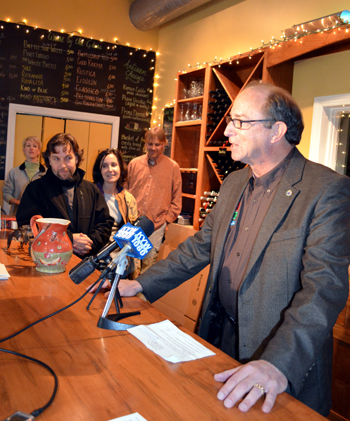 Secretary Fisher talks about the progress NJ wineries have made in wine shipping since it was enacted, as Auburn Road Vineyard operators Shannon Kilpatrick, Scott and Julianne Donnini and David Davis look on.

New Jersey has 45 licensed wineries and many have begun shipping within New Jersey and into other states. Sixteen wineries currently sell their wine through their websites. Another nine allow customers to view their wines online, but orders are taken over the phone or through e-mail. Many others are gearing up for direct shipping in the New Year.

Auburn Road Vineyards has already shipped more than 100 bottles of wine to New Jersey customers and uses a retailer, Hops and Grapes in Glassboro, to ship orders outside of the state.

"The ability to ship our wine has been a huge help in several ways," said Scott Donnini, owner of Auburn Road Vineyards. "First, it has allowed us another avenue through which we can make our product available to the public, but secondly, it has given the New Jersey wine industry almost instant credibility."

The idea for the winery began in 2000 at a gathering of friends Donnini, his wife, Julianne, David Davis, sisters Shannon and Jennifer Kilpatrick and Joe Reilly, who eventually opened Auburn Road Vineyards in 2007. The winery now includes 19 acres of Cabernet Sauvignon, Merlot, Sangiovese, Chambourcin, Pinot Grigio, Cabernet Franc and Petite Verdot grapes, as well as The Enoteca wine bar. They make 15 different wine varieties.

Donnini said they have received a lot of positive feedback on shipping from their customers.

"They appreciate the convenience of being able to get their favorite wine delivered right to their homes," he said. "In the case of customers who live far away, it really is the only way to get some of these wines."

Auburn Road Vineyards is located in the Outer Coastal Plain American Viticultural Area, recognized for its micro-climate,

with sandy, well-drained deep soils, milder winters and a good deal of sunshine, comparable to Bordeaux and Burgundy in France.

 

A listing of New Jersey wineries and their websites is located on the Jersey Fresh website at www.jerseyfresh.nj.gov/wine.htm.