Home
>
News
>
Press Releases
>
2013
>
NJ SCHOOL FOOD SERVICE PROFESSIONALS PREVIEW PREPARED FOOD FOR SCHOOL MEALS AT NJDA FOOD SHOW
NJ SCHOOL FOOD SERVICE PROFESSIONALS PREVIEW PREPARED FOOD FOR SCHOOL MEALS AT NJDA FOOD SHOW
For Immediate Release: January 29. 2013
Contact: Lynne Richmond 
(609) 633-2954

(TRENTON) – The New Jersey Department of Agriculture (NJDA), in conjunction with the New Jersey School Nutrition Association, presented the First Annual USDA Foods Conference on January 24 at the East Brunswick Hilton in East Brunswick. 

More than 250 school food service professionals from around the state attended workshops and a vendor show of the latest trends in prepared school menu items made from United States Department of Agriculture foods.  The manufacturers and distributors presented foods geared to meet the nutritional requirements of the Healthy Hunger-Free Kids Act school lunch regulations, enacted this year.

"By utilizing USDA foods, school districts are able to reduce their food costs while providing healthy, kid-friendly meals," said New Jersey Secretary of Agriculture Douglas H. Fisher.  "The USDA Foods Distribution Program is part of the Department's overall commitment to providing students with delicious and nutritious options in their school cafeterias."

The USDA Foods Distribution program takes USDA foods and distributes them to processors, who make nutrient-dense reduced fat products, such as whole wheat crust pizza or whole grain breaded chicken nuggets, that are provided at a reduced cost to school districts. 

"We saw a lot of lower sodium foods, whole grains, lower fat meats and individually packaged fresh fruits and vegetables at the show this year," said Rose Tricario, Director of the Department's Division of Food and Nutrition, which administers the USDA Foods program.  "The manufacturers are doing a good job developing nutritious and appealing options for students using USDA foods."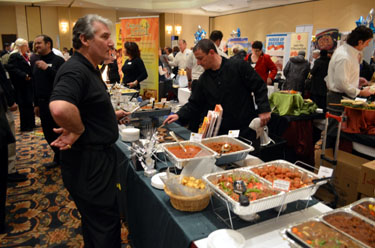 Vendors displayed products using USDA foods for tastings at the show.

The conference gave school food service professionals the opportunity to sample the foods and speak directly with manufacturers to meet their district's specific needs, helping them to determine which foods to order for the 2013-2014 school year.

Diane Briskey of J&J Snack Foods, displayed a whole line of whole grain pretzel products, including a pretzel bread roll.

"It has zero sodium and allows them to put lunch meats, cheese and condiments on it," said Briskey, J&J's Eastern School Foodservice Manager.  "Kids are loving it.  It's fun but it's also healthy.  Schools are looking for these types of products to increase participation."

Tony Kowalak of Sodexo, Food Service General Manager for the Hopewell Valley School District, stopped at the booth to inquire about the pretzel products.

"A lot of whole grain products are not as popular as we hoped," said Kowalak.  "It's great to find whole grain products that meet the guidelines."

Other newer items presented at the show included:  baked chick pea patties for falafel; turkey whole grain corn dogs and turkey ham; whole grain breaded fish; peanut-free sunflower seed butter products; and foods featuring Buffalo or Asian flavors. 

"USDA is happy to see the great interest by school food service in these healthy meal options," said Tim Walsh, USDA Food and Nutrition Service Mid-Atlantic Regional Office.  "The show supports the Healthy Hunger-Free Kids Act.  The professionals can taste test items.  It's a wonderful opportunity for both the vendors and food service professionals."

The federal Healthy Hunger-Free Kids Act school lunch regulations require more fruits and vegetables and whole grains, fat-free or low-fat milk, fat-free flavored milk and strict limits on saturated fat and portion size.

The USDA Foods Conference also featured a number of valuable training sessions, including utilizing and tracking U.S. Department of Agriculture (USDA) foods to ensure school districts get the intended cost savings of the program, and the introduction of a new staff training tool to help school foodservice professionals understand the new meal regulations.  

The NJDA also offers USDA foods to eligible recipient agencies on a monthly basis from state-contracted warehouses, which includes fresh fruits and vegetables through the Department of Defense (DOD).

For more information on the USDA Foods Distribution program, visit www.nj.gov/agriculture/divisions/fn/fooddistrib/slcd.html.