CHRISTIE ADMINISTRATION HONORS HARRISON DISTRICT'S INCREASED SCHOOL BREAKFAST PARTICIPATION
School Breakfast Week Marked March 4-8

For Immediate Release: March 8, 2013
Contact: Lynne Richmond
(609) 633-2954

(HARRISON) – The New Jersey Department of Agriculture and U.S. Department of Agriculture Food and Nutrition Service Mid-Atlantic Region officials today celebrated National School Breakfast Week with a visit to Lincoln Elementary School in Harrison to highlight the district's efforts to ensure more students start the school day with breakfast.

Breakfast has been offered in the classroom universally to all students at the school for the past two school years.  The program was expanded to the middle and high school this year.

"We applaud the Harrison School District's commitment to the School Breakfast Program through all grade levels by offering morning meals to all students at the start of the school day in the classroom," said Rose Tricario, Division of Food and Nutrition Director for the Department of Agriculture.  "We are making progress in increasing the number of students participating in this important program statewide through adjusting the time the meal is served, gaining wider access to breakfast for more students."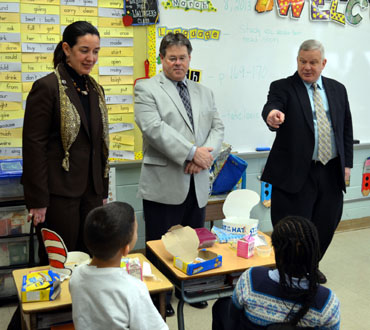 Rose Tricario from NJDA, James Harmon from USDA and School Superintendent Dr. James Doran visit a second-grade classroom during breakfast-time.

New Jersey Secretary of Agriculture Douglas H. Fisher and New Jersey Education Commissioner Chris Cerf last year joined together to urge schools to offer breakfast in the classroom to increase participation and capture a larger percentage of children who qualify for free or reduced price breakfast who were not able to access the meal before.

This year, the Food Research and Action Center reported in its school breakfast report card that New Jersey became one of only 10 states in the nation to have a double-digit increase in participation – up 16.3 percent between the 2010-2011 and 2011-2012 school years. In this current school year, there are 86 more schools in New Jersey providing breakfast than the previous year with 192,806 students eating breakfast at school daily, up more than 19,000 children than the year before.

State law requires breakfast to be served in schools in which 20 percent or more of the students enrolled are eligible for free or reduced price meals under the federally-funded National School Lunch Program.  Of the students who receive free or reduced price lunch, only 44 percent receive school breakfast.

"Making sure that children get the best start to their day is part of our commitment to providing all of our children access to safe, nutritious, and well-balanced meals," said USDA Food and Nutrition Service Special Nutrition Programs Division Director James Harmon. "Eating breakfast helps maintain a healthy weight and gives our youngest generation the greatest chance at success."

The USDA's School Breakfast Program provides a nutritious start to each school day for nearly 13 million children in over 91,000 schools and residential child care institutions.

The Harrison School District serves hot and cold breakfasts to all of its students.  Lincoln Elementary School houses more than 600 first through third-graders. 

"We decided to offer breakfast after the bell to our students because all the research indicates that children who eat breakfast perform better academically and tend to be more attentive," said School Superintendent Dr. James P. Doran. 

National School Breakfast Week this year was March 4-8, an initiative of the School Nutrition Association launched in 1989 to raise awareness about the availability of the USDA's School Breakfast Program and increase participation, both by schools and students.

For more information on the School Breakfast Program, visit www.nj.gov/agriculture/divisions/fn/childadult/school_breakfast.html.