NEW JERSEY DECLARES ITSELF FREE FROM DEVASTATING TREE-KILLING PEST
Officials eradicate Asian longhorned beetle from state

For Immediate Release: March 14, 2013
Contact: Tom DiBacco
202-420-0593
tdibacco@broadheadco.com  

Lynne Richmond
609-633-2954     
lynne.richmond@ag.state.nj.us                                                              

Rhonda Santos
508-852-8044
rhonda.j.santos@aphis.usda.gov 

Federal and state agriculture officials today delivered some welcome news for New Jersey residents in the state's long running battle against the Asian longhorned beetle (ALB).

"After more than a decade, we can declare New Jersey is free of this invasive pest," said New Jersey Secretary of Agriculture Douglas Fisher. "We could not have accomplished this eradication without this coalition of federal, state, and local agencies, and of course, the citizens of New Jersey, whose vigilance was critical in this fight."

Secretary Fisher was joined by United States Department of Agriculture (USDA) Associate Deputy Administrator for the Animal and Plant Health Inspection Service Plant Protection and Quarantine program Victor Harabin, as well as local elected officials at an announcement ceremony and tree planting at Hawk Rise Sanctuary in Linden, New Jersey, a city that was severely impacted by the invasive pest.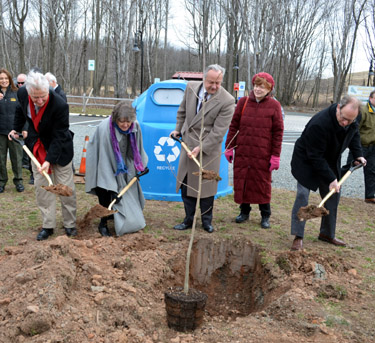 Victor Harabin of USDA, State Forester Lynn Fleming, Linden Mayor Richard Gerbounka, Union County Freeholder Bette Jane Kowalski and Secretary Fisher plant a bicolor oak tree, donated by Fernbrook Nursery in Bordentown, at Hawk Rise Sanctuary in Linden in honor of ALB eradication.
"The united commitment by federal, state and local governments to achieve eradication has helped protect trees in the state of New Jersey and in our nation from the invasive Asian longhorned beetle," stated Harabin. "It is this commitment and cooperation that has resulted in success."
The beetle was first discovered in Jersey City in October 2002.  State and federal agriculture officials then found trees infested with the beetle in Carteret, Woodbridge, Linden, and Rahway.  Eradication efforts involved the removal of 21,981 trees in Union, Middlesex, and Hudson counties.   The infested trees were taken to Covanta resource recovery facility where they were converted to electrical energy to power some 30,000 homes and businesses. 
Nearly a third of those trees have been replanted. Foresters replanted with a variety of non-host species, with each tree chosen specifically to meet the site requirements.
"The public is our best defense against the beetle," said Harabin. "Early detection is essential, and I want to thank the citizens of New Jersey for their efforts to stop the spread of this invasive pest."

As more areas are winning the fight against the beetle, members of the public are encouraged to inspect their trees for signs of damage caused by the insect and report any suspicious findings.  The sooner an infestation is reported, the sooner efforts can be made to quickly contain and isolate an area from future destruction.  People are encouraged to be mindful of moving firewood, as moving ALB-infested firewood can unintentionally spread of the pest.
New Jersey is the second state to declare eradication from the beetle.  ALB was successfully eradicated from Illinois in 2008.  The ALB-regulated area of Islip, N.Y. also achieved eradication in 2011.  An area is declared free of the ALB after all the infested trees are eliminated and surveys are negative for active signs of beetle activity or the presence of the beetle.  Eradication announcements for Manhattan and Staten Island, N.Y. are also expected this year. 
The Asian longhorned beetle (ALB) was first discovered in the U.S. in 1996, likely arriving here unknowingly inside wood packing material from Asia. The insect has no known natural predators and it threatens recreational areas, forests, and suburban and urban shade trees.  The beetle bores through the tissues that carry water and nutrients throughout the tree, which causes the tree to starve, weaken and eventually die. Once a tree is infested, it must be removed. It has caused tens of thousands of trees to be destroyed in New Jersey, Ohio, Massachusetts, New York, and Illinois.
"While this eradication is a victory for forest health, many other pests still actively threaten New Jersey's trees," said State Forester Lynn Fleming. "We need every resident to keep vigilant and not move firewood and inspect their trees regularly for signs of infestation."

For more information, visit www.nj.gov/agriculture or www.Asianlonghornedbeetle.com.