CHRISTIE ADMINISTRATION ANNOUNCES GRANT TO CONTINUE "FARM TO SCHOOL" PROJECT
Made With Jersey Fresh Items Headed for School Lunch Lines

For Immediate Release: April 17, 2013
Contact: Lynne Richmond
(609) 633-2954

(VINELAND) – New Jersey Secretary of Agriculture Douglas H. Fisher today announced the state has received a $62,713 U.S. Department of Agriculture Federal-State Marketing Improvement Program grant to continue work with Rutgers Food Innovation Center on a project to bring Made with Jersey Fresh items to schools throughout the state.

A previous $51,000 grant developed several menu items using Jersey Fresh produce that meet National School Lunch Program nutrition requirements.  The new grant will be used to launch these processed items and pave the way for distribution to schools.

"We have been working with farmers and schools to increase the amount of fresh produce used in the school meals programs during our growing season," said Secretary Fisher.  "This project will make locally grown Made with Jersey Fresh products available to students throughout the school year."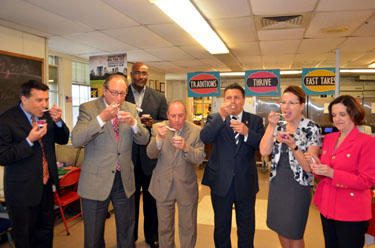 George Steinbronn, Secretary Fisher, Darrin Anderson, Vineland Mayor Ruben Bermudez, Freeholder Sam Fiocchi, Lisa Sheetz and Diane Holtaway sample the Berry Yogurt Parfaits
The Department of Agriculture received the U.S. Department of Agriculture Federal-State Marketing Improvement Program Grant late last year and has worked with the Food Innovation Center to develop single serving, innovative items that not only meet the nutritional, cost and shelf life requirements necessary to be utilized in school meals, but also are appealing to students. 

Secretary Fisher and a variety of other dignitaries and project supporters today visited Landis Intermediate School in Vineland to gauge students' reactions to the products developed under the first grant.  Students received samples of Berry Yogurt Parfait – made with Jersey cranberries, blueberries and strawberries – and Eggplant Parmesan Pizza – using Jersey eggplant, tomatoes, sweet peppers, zucchini, yellow squash and herbs.  Rutgers Food Innovation Center also assembled a special panel of young people who filled out forms about their reactions to the products. 

Rutgers Food Innovation Center, a program of the New Jersey Agricultural Experiment Center, is a unique food business incubator and processing facility.  The center has been commissioned through this grant to:
Establish a "value-added farm to fork" process that will serve as a model for the state and other regions, by identifying a means to integrate locally grown and processed foods into the commodity school food service program
Conduct commercial scale runs of developed products with identified processors
Identify distribution systems for commercialized products to enable purchasing throughout the state
Formulate and execute a marketing plan for products
Communicate this program throughout the state to agricultural producers
"This is a triple win initiative, benefitting farmers and food manufacturers, students and school food service directors," said Diane Holtaway, Associate Director of Client Services at Rutgers Food Innovation Center.  "The intent of the project is to develop school breakfast and lunch items that delight the taste buds of students statewide, using local produce, while developing new revenue opportunities for agricultural producers and processors."

The purpose of the Federal-State Market Improvement Program grants are to develop innovative ways to benefit farmers.  A significant market opportunity exists if the seasonal availability of New Jersey Agricultural products to the school meals program could be expanded.  Annually, more than 800,000 pounds of locally grown fruits and vegetables are distributed to schools under a cooperative agreement with the U.S. Department of Defense. 

The Department of Agriculture is actively engaged in connecting schools with farmers and local produce distributors to bring more New Jersey produce into the school meals' program.  The Department, in cooperation with the New Jersey Farm to School Network celebrates Farm to School Week the last week in September to promote the state's agricultural industry and encourage children and their families to increase their consumption of fresh produce.  The week also seeks to educate about the health benefits of eating fruits and vegetables and show the connection between a healthy diet and success in school.

Through the Farm to School program, schools throughout New Jersey can source more than 100 types of Jersey Fresh produce grown here in the Garden State. Opportunities exist for state farmers to provide agricultural products to school food service departments throughout the growing season. The object of serving healthy meals in school cafeterias is to improve student nutrition, provide health and nutrition education opportunities that will last a lifetime, as well as support local farmers. 

For more information, visit www.nj.gov/agriculture/divisions/fn/childadult/farm_to_school.html.