CHRISTIE ADMINISTRATION PARTICIPATES IN LOCAL PRODUCE HARVEST AT BURLINGTON COUNTY FARM
Gleaning Support Grant Recipient Collects Donated Produce to Distribute to Food Pantries and Soup Kitchens

For Immediate Release: May 2, 2013
Contact: Lynne Richmond 
(609) 633-2954

(SPRINGFIELD) – New Jersey Secretary of Agriculture Douglas H. Fisher today participated in Farmers Against Hunger's first gleaning of the season, picking collard greens along with a group of volunteers at Specca Farms in Springfield Township, Burlington County.  Secretary Fisher then continued on to Holy Cross Church of Christ in Trenton where the just-picked produce was delivered for distribution to those in need.

Farmers Against Hunger (FAH) received a $100,000 Gleaning Support Grant through the Department of Agriculture's State Food Purchase Program (SFPP) to collect, distribute and administer its program.

"It is fun, but hard work to harvest vegetables and I commend all the volunteers who make it possible to connect our generous farmers with the people who are truly in need of this nutritious food," said Secretary Fisher.  "We are so very proud of the state's farmers who donate their excess produce to help in the fight against hunger."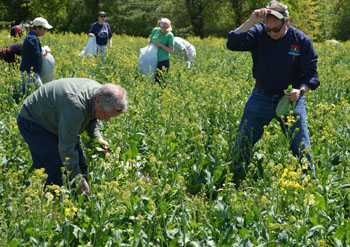 Secretary Fisher joined volunteers to pick collard greens for distribution to those in need

Farmers Against Hunger serves 7,000 people weekly during the growing season through 70 organizations, including soup kitchens, food pantries and the state's food banks.  Farmers from all over the state participate by donating their surplus produce or allowing volunteers to come onto their farms and glean – or pick -- excess produce.  In 2012, FAH received almost 1.2 million pounds of fruits and vegetables from farmers, food retailers and distributors. 

Specca Farms has been involved with Farmers Against Hunger since the early 2000's.

"Sometimes we don't sell everything that we grow and it is a shame to see it go to waste when you know that someone would enjoy eating it who might not necessarily be able to buy it in a store," said David Specca, who, along with his wife, sons and brothers, operate Specca Farms, which was started by his grandfather in 1956.  "We have been blessed with the farm and it is good to spread that blessing around to others who are less fortunate."

Specca Farms consists of a 125-acre preserved tract and another 12 acres down the road.  They grow a variety of ethnic vegetables, broccoli rabe, spinach, Swiss chard, beets, strawberries, peas, Fava beans, flat Italian beans, Regina beans, plum tomatoes, hot peppers, eggplant, cucumbers, collards, kale, escarole, romaine, red lettuce, parsnips and leeks.  They sell their produce through pick-your-own on the weekends.

The collard greens picked today at the farm were taken to Holy Cross Church, one of Farmers Against Hunger's most active distribution sites.  FAH holds a weekly distribution of produce and other items at the church, where 10 other organizations with food pantries and soup kitchens come to pick up shares of produce.  In addition, Holy Cross Church sets up a walk-up food distribution line where those in need can come to receive food.  More than 1,500 people are served weekly at the site.  The distribution from the FAH truck starts at 3 p.m. and Holy Cross opens its line to the public around 3:45 p.m.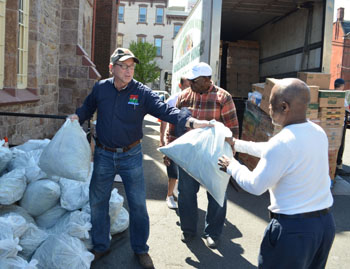 Secretary Fisher handing out bags of just-picked produce at Holy Cross Church.

Kristina Guttadora, Farmers Against Hunger produce collection and distribution coordinator, said the Department of Agriculture gleaning grant enables FAH to not only operate but expand by adding an additional truck so that they can increase our collections and gleanings and continue accepting new recipient groups. 

Gleaning Support Program grants must be used by the gleaning organizations for collection, distribution and administrative costs.  The groups must distribute the gleaned New Jersey grown produce or non-farm nutrient dense rescued food gleaned from non-farm sources outside of the growing season only to New Jersey residents.

The funding for the grants comes from the State Food Purchase Program to be distributed quarterly to the state's six food banks to purchase healthy food, with a high priority on buying locally grown produce from New Jersey farmers.  For more information on the SFPP, visit www.nj.gov/agriculture/divisions/fn/fooddistrib/foodpurchaseprogram.html.