Home
>
News
>
Press Releases
>
2013
>
CHRISTIE ADMINISTRATION AND FEDERAL OFFICIALS RECOGNIZE COLTS NECK SCHOOLS FOR NUTRITION, PHYSICAL ACTIVITY INITIATIVES
CHRISTIE ADMINISTRATION AND FEDERAL OFFICIALS RECOGNIZE COLTS NECK SCHOOLS FOR NUTRITION, PHYSICAL ACTIVITY INITIATIVES
Three Schools Presented with Healthier US School Challenge Award

For Immediate Release: May 3, 2013
Contact: Lynne Richmond
(609) 633-2954

(COLTS NECK) – United States Department of Agriculture and New Jersey Department of Agriculture Food and Nutrition officials today presented Cedar Drive Middle, Conover Road Elementary and Conover Road Primary Schools in Colts Neck with the Healthier US School Challenge Award, which recognizes schools that promote good nutrition and physical activity.

All three schools attained the Bronze Level of the award, which carries a $500 prize.  The schools were presented with banners and certificates for their achievements.

"The Colts Neck School District has always had a commitment to offering healthy choices in their cafeterias so it only needed to make a few adjustments to earn this prestigious award," said Arleen Ramos-Szatmary, Coordinator of School Nutrition Programs for the New Jersey Department of Agriculture.  "These changes will better equip its students to do their best and help them grow to be strong, healthy adults.  We encourage the schools to continue to build upon their success and reach higher levels of the award."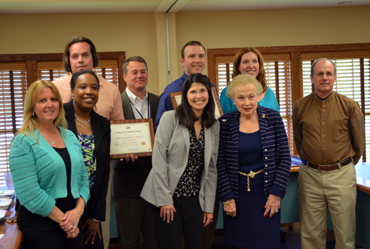 Lisa Elsinger, Colts Neck School Food Service Director; Monique Hatten, USDA Food and Nutrition Service; Colin Rigby, Cedar Drive Middle School Principal; Superintendent Dr. Fredrik Oberkehr; Arleen Ramos-Szatmary, NJ Department of Agriculture; James Osmond, Conover Road Elementary School Principal; Monmouth County Freeholder Lillian Burry; Tricia Barr, Conover Road Primary School Principal; Steve Bergonzoni, USDA Food and Nutrition Service

The HealthierUS School Challenge (HUSSC) is a voluntary national certification initiative for schools participating in the National School Lunch Program.  Sponsored by the USDA Food and Nutrition Service (FNS), the initiative encourages all schools to take a leadership role in helping students to make healthier eating and physical activity choices that will last a lifetime. 

"Achieving the Healthier US School Challenge recognition demonstrates the Summit School District's deep commitment to create and maintain a healthy school environment," said Monique Hatten, Branch Chief, School Nutrition Programs, USDA Food and Nutrition Service.  "Colts Neck's schools can serve as models for others seeking to make improvements."

To achieve the challenge, Sodexo General Manager for the Colts Neck School District, Lisa Elsinger, said they incorporated more beans into the menu, as well as whole grains.  The district tries to use Jersey Fresh fruits and vegetables as much as possible and promote the local produce during Jersey Fresh Farm to School Week in September.  The prize money will be used to purchase a fruit and vegetable bar for one of the schools.

"The Colts Neck Township Board of Education is committed to the well-being of each student attending its public schools," said School Superintendent Frederik Oberkehr, Ed.D.  "Being recognized by HUSSC is a testament to that commitment and we will continue to seek ways of improving all that we do in the interest of our students.  I would like to thank our food services provider, Sodexo, for their support in our effort to provide healthier choices for our students."



The Colts Neck schools are among 68 in the state that have earned the Healthier US School Challenge Award. Ultimately, FNS would like to see all schools receive a HUSSC award at any one of the four levels of superior performance: 

Schools awarded a distinction receive a monetary incentive (Bronze $500, Silver $1,000, Gold $1,500, and Gold Award of Distinction $2,000), an award plaque signed by a USDA official, a banner to display in their school, and their name listed on the Team Nutrition Web site.

To qualify for an award, a school must submit a formal application and meet basic criteria set forth by the FNS for food that should be served in schools.  Healthier US Schools must also have a local school wellness policy, as mandated by Congress.  Schools receiving a HUSSC award commit to meeting the criteria throughout their four -year certification period.

Schools that champion the HUSSC work hard to make changes to their school nutrition environment in order to (1) improve the quality of the foods served, (2) provide students with nutrition education, and (3) provide students with physical education and opportunities for physical activity. 

For more information on the HealthierUS School Challenge, visit www.fns.usda.gov/tn/healthierus/index.html.