CHRISTIE ADMINISTRATION KICKS OFF JERSEY FRESH SEASON WITH FARM TOUR
New Jersey Farmers Embark on "Another Great Season"

For Immediate Release: May 21, 2013
Contact: Lynne Richmond
(609) 633-2954

(TRENTON) – New Jersey Secretary of Agriculture Douglas H. Fisher today visited farms in Cumberland and Gloucester counties to highlight the start of the Jersey Fresh growing season. Stops included Dooley Farms and A. Pagnini Farms in Vineland and Dan Graiff Farms in Newfield.

"Our state's farmers are hard at work growing the Jersey Fresh fruits and vegetables we all love," said Secretary Fisher. "You can find this wonderful Jersey Fresh produce in supermarkets, community farmers markets, roadside stands and restaurants throughout the state. Make sure to ask for Jersey Fresh and support our farm families."

The Department of Agriculture introduced two new initiatives this year to assist consumers seeking Garden State farmers' agricultural products.

The Department recently kicked off its new sports-themed marketing campaign, Jersey Fresh: Another Great Season, which

showcases New Jersey farmers as champions, growing more than 100 varieties of the finest and freshest fruits and vegetables. The campaign

includes television, radio and print advertisements.

In addition, the Department revamped its Jersey Fresh website www.jerseyfresh.nj.gov and added many more features. Besides a dynamic search engine for community farmers markets, pick-your-own farms and roadside stands, visitors to the site can find a list of certified organic farms, community supported agriculture farms and Made with Jersey Fresh items. In addition, Jersey Fresh recipes are downloadable from the site directly to smart phones through the use of QR codes.

On the website, visitors also can find Jersey Fresh recipes, information about the Jersey Fresh program, nutrition and food safety information and New Jersey agriculture facts.

At Dooley Farms in Vineland, Secretary Fisher toured their greenhouses to see their hot house tomato operation. John Dooley is a first-generation farmer who, after graduating from Cook College, worked in the nursery industry. He gradually moved over to vegetables and bought his farm 25 years ago, which includes 1 acre of greenhouses and 15 other acres of farmland. His farm is part of the Jersey Fresh Quality Grading Program, which means the produce is inspected by the Department of Agriculture.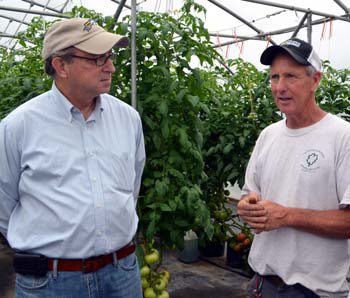 Secretary Fisher and John Dooley with his greenhouse tomatoes.

Dooley packs about 200,000 pounds of greenhouse tomatoes from April to December and another 100,000 pounds of field-grown tomatoes. In addition, he grows greens and herbs in the field.

"Our main concern is taste and quality," said Dooley. "We pick the tomatoes with high color so they are ready for the customers. It tends to bring out the best flavor so the customers really like them and they come back for more."

Fisher's next stop was A. Pagnini Farms, also in Vineland. Andrew Pagnini is a fourth-generation farmer, growing 100 acres of vegetables and herbs on the farm started in 1919. Pagnini took over the farm in 1998 and specializes in cilantro and basil, as well as greens. He also has one and a half acres of greenhouses where he grows vegetable transplants for his own farm and other New Jersey farmers. In the greenhouse, he also produces bedding plants, hanging baskets and potted plants.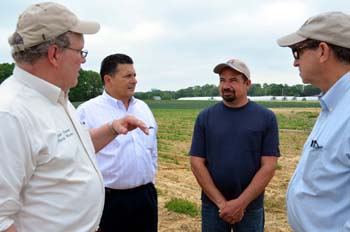 NJ Farm Bureau Executive Director Peter Furey, Cumberland County Freeholder Sam Fiocchi, Andrew Pagnini and Secretary Fisher in Pagnini's herb field.

The final stop was at Dan Graiff Farms in Newfield, Gloucester County, a farm started by Dan and Jamie Graiff's parents in 1980. The Graiffs farm 250 acres, with 100 acres permanently preserved. This is the first year they are growing vegetables in a high tunnel – red round tomatoes, heirloom tomatoes, specialty peppers, and squash blossoms. They sell mainly at the Philadelphia Terminal Market, through distributors and to local restaurants.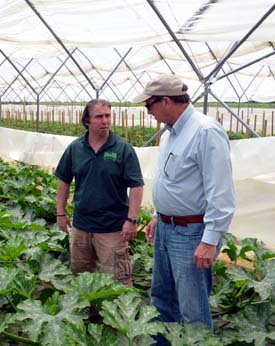 Jamie Graiff and Secretary Fisher stand in the farm's high tunnel where squash blossoms are harvested.

"Dooley, A. Pagnini and Dan Graiff Farms epitomize the diversity of New Jersey agriculture, our farmers' commitment to growing the highest quality, best tasting produce, and the benefits of being Jersey Fresh," said Secretary Fisher. "All over New Jersey, hard-working farmers like these three, are in the fields making sure consumers will have access to the diverse crops grown in our state."

To find Jersey Fresh, visit www.jerseyfresh.nj.gov.