CHRISTIE ADMINISTRATION CELEBRATES JUNE AS MONTH OF THE HORSE
Events Planned Throughout the State Celebrating the State Animal

For Immediate Release: June 11, 2013
Contact: Lynne Richmond
(609) 633-2954

(MILLSTONE) – New Jersey Secretary of Agriculture Douglas H. Fisher today celebrated the Month of the Horse at Showplace Farms in Millstone, one of the state's premier harness-racing training facilities.  During his visit, Secretary Fisher took a ride with trainer Linda Toscano in a jog cart several times around the facility's 1,000-meter track with Bettors Edge, a horse that won more than $500,000 last year.

New Jersey is home to thousands of pleasure horses, show horses and race horses.  In 1977, to honor the important place horses play in New Jersey's economy and quality of life, the horse was named the official State Animal.  This is the fourth year Governor Chris Christie has proclaimed June the Month of the Horse in New Jersey.

Governor Christie's 2013 proclamation states:  "Horses of all sizes and breeds add a special dimension to the lives of many citizens of New Jersey; and the high quality of New Jersey-sired Standardbreds is recognized around the world."

"New Jersey's Standardbred horses, as well as their training and breeding facilities, are an important component of the state's economy," said Secretary Fisher.  "As we celebrate the Month of the Horse, I urge everyone to support the equine industry that helps make our state a special place to live and visit."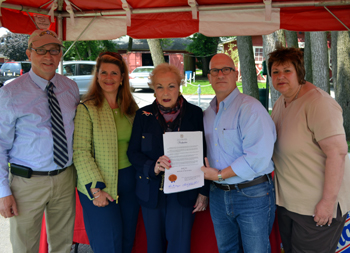 Secretary Fisher with Monmouth County Freeholder Dep. Director Serena DiMaso, Freeholder Lillian Burry, Bix Dimeo and Millstone Township Mayor Nancy Grbelja

A Rutgers Equine Science Center study showed the state's equine industry is valued at $4 billion and generates $1.1 billion annually in positive impact to the state's economy.  There are 7,200 equine facilities on 176,000 acres and 42,500 equine animals in New Jersey.

New Jersey annually hosts the most important race in the Standardbred industry – the Hambletonian, for 3-year-old colt trotters – on the first Saturday of August.  Since 1981, the race has been held at the Meadowlands race track in East Rutherford.  The 2012 purse was $1.5 million.  The filly companion race – the Hambletonian Oaks for 3-year-old trotter fillies – is held at the Meadowlands the same day with a $750,000 2012 purse.

The richest pacer race in the United States -- the Meadowlands Pace for 3-year-old pacers -- is held in July at the Meadowlands.  The estimated purse in 2013 is $800,000.

Showplace Farms is a 156-acre facility that trains Standardbred horses for harness-racing, as well as offering rehabilitation services for race horses.  Currently, they have almost 400 horses in residence worth more than $20 million.  Over the years, many of harness-racing's most accomplished trainers and horses have trained at Showplace Farms, including Linda Toscano, New Jersey's Horseperson of the Year, who trained 2012 Hambletonian winner, Market Share and the national overall Horse of the Year, Chapter Seven.

"Harness racing has always been the type of racing that's been approachable by the people," said Bix Dimeo, Showplace Farms General Manager, noting that the sport originated on fairgrounds right outside of cities.  "At Showplace, we strive to create a premier facility for those in the Standardbred industry and provide them with what they need to continue to train Standardbreds in New Jersey" 

In addition to the Standardbred industry, Secretary Fisher said New Jersey is home to many top equine facilities.  The United States Equestrian Foundation headquartered in Gladstone funds programs that train and support top athletes and horses to compete at the Olympics, World Championships, Pan American Games and other top international competitions.  The Horse Park of New Jersey at Stone Tavern in Allentown hosts the Jersey Fresh Three-Day Event, which has become one of the world's top eventing competitions.  And, the Gloucester County Dream Park is a state-of-the-art equestrian complex created to provide opportunities for horse owners to participate in shows and competitions and for the public to experience horse events firsthand.

For information on the New Jersey Department of Agriculture's equine programs, including the Sire Stakes program to encourage the breeding of Standardbred horses and the Jersey Bred marketing program to identify horses raised in the Garden State, visit the Jersey Equine website at www.jerseyequine.nj.gov.

Click here for the listings for some of the equine events happening this month.