Home
>
News
>
Press Releases
>
2013
>
CHRISTIE ADMINISTRATION AND FEDERAL OFFICIALS HONOR LONG BEACH ISLAND SCHOOLS IMPACTED BY SANDY FOR NUTRITION, PHYSICAL ACTIVITY INITIATIVES
CHRISTIE ADMINISTRATION AND FEDERAL OFFICIALS HONOR LONG BEACH ISLAND SCHOOLS IMPACTED BY SANDY FOR NUTRITION, PHYSICAL ACTIVITY INITIATIVES
Long Beach Island Grade School and Ethel A. Jacobsen Elementary Presented with Healthier US School Challenge Awards
For Immediate Release: June 13, 2013
Contact: Lynne Richmond
(609) 633-2954

(SURF CITY) – United States Department of Agriculture and New Jersey Department of Agriculture Food and Nutrition officials today presented Long Beach Island Grade School and Ethel A Jacobsen Elementary School in Surf City with the Healthier US School Challenge Award, which recognizes schools that promote good nutrition and physical activity.  Both schools attained the Bronze Level of the award, which carries a $500 prize.  The schools were presented with banners and certificates for their achievements during a ceremony at Jacobsen School.

The Long Beach Island Grade School in Ship Bottom has been closed since sustaining damage during Superstorm Sandy in October.  Its third-through-sixth grade students have since attended Jacobsen School, which houses the district's pre-K through second-grade students.

"Superstorm Sandy took a toll on these two Long Beach Island schools but they have continued to offer healthy choices in their cafeteria, rebuilt their garden and provided community nutrition education," said Arleen Ramos-Szatmary, Coordinator of School Nutrition Programs for the New Jersey Department of Agriculture.  "They are truly deserving of the prestigious Healthier US School Challenge Award.  We encourage them to continue to build upon their successes and reach higher levels of the award."

The Healthier US School Challenge (HUSSC) is a voluntary national certification initiative for schools participating in the National School Lunch Program.  Sponsored by the USDA Food and Nutrition Service (FNS), the initiative encourages all schools to take a leadership role in helping students to make healthier eating and physical activity choices that will last a lifetime. 

"Achieving the Healthier US School Challenge recognition demonstrates the Long Beach Island Consolidated School District's deep commitment to create and maintain a healthy school environment," said Monique Hatten, Branch Chief, School Nutrition Programs, USDA Food and Nutrition Service.  "These two schools can serve as models for others seeking to make improvements."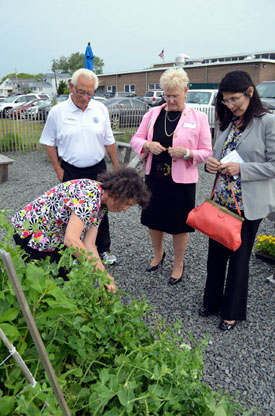 Garden Coordinator Bianca Aniski picks snap peas for Ship Bottom Councilman Pete Rossi, Assemblywomand DiAnne Gove and Arleen Ramos-Szatmary.


To achieve the challenge, school superintendent Karen McKeon said they disseminated community education to all and adopted a Choose MyPlate – which

illustrates the five food groups that are the building blocks for a healthy diet --

approach to eating that has been effective and reaped positive results.

"With obesity levels on the rise, we have been encouraging nutritious foods, physical activity and consuming fresh fruits and vegetables by following the MyPlate guidelines," said McKeon.  "Our goal is that because of these efforts, students will live a fuller and healthier life with these elements at the forefront."

Working with their food service management company, Sodexo, the district incorporates local Jersey Fresh produce, as well as crops harvested from their school garden, which was devastated by Sandy. McKeon said they were able to reinstate the garden with help from the school community and Monsignor Donovan High School volunteers.  She said they plan to use the prize money to improve their all-terrain area, install a garden gate, or install a sprinkler system in the garden.

McKeon recently accompanied students from the Grade School to the White House, where they helped First Lady Michelle Obama harvest vegetables from her garden.  They also made healthy pizza and got to meet the President, who had just arrived back from a visit to the Jersey Shore with Governor Christie.

The Healthier US School Challenge is part of Mrs. Obama's Let's Move! Initiative.  The Long Beach Island schools are

among

only

68 in the state that have earned the Healthier US School Challenge Award. Ultimately, FNS would like to see all schools receive a HUSSC award at any one of the four levels of superior performance: 

Schools awarded a distinction receive a monetary incentive (Bronze $500, Silver $1,000, Gold $1,500, and Gold Award of Distinction $2,000), an award plaque signed by a USDA official, a banner to display in their school, and their name listed on the Team Nutrition Web site.

To qualify for an award, a school must submit a formal application and meet basic criteria set forth by the FNS for food that should be served in schools.  Healthier US Schools must also have a local school wellness policy, as mandated by Congress.  Schools receiving a HUSSC award commit to meeting the criteria throughout their four -year certification period.

Schools that champion the HUSSC work hard to make changes to their school nutrition environment in order to (1) improve the quality of the foods served, (2) provide students with nutrition education, and (3) provide students with physical education and opportunities for physical activity. 

For more information on the Healthier US School Challenge, visit www.fns.usda.gov/tn/healthierus/index.html.