CHRISTIE ADMINISTRATION ANNOUNCES JERSEY FRESH FARMERS MARKETS OPEN FOR THE SEASON
Community Farmers Market Offers Jersey Fresh Produce

For Immediate Release: June 17, 2013
Contact: Lynne Richmond
(609) 633-2954

(ROBBINSVILLE) – New Jersey Secretary of Agriculture Douglas H. Fisher today celebrated the beginning of community farmer's market season in New Jersey with a visit to the Robbinsville Market. 

Today's visit is the first of a series of stops by the Secretary over the coming weeks to highlight the many farmers markets operating statewide.  New Jersey's farmers markets offer residents the opportunity to enjoy freshly-picked, Jersey Fresh produce directly from the state's farmers, while supporting state agriculture and their local economies at the same time.

"These markets help support our state's farmers, but they also bring business to towns, some of which were impacted by Superstorm Sandy," said Secretary Fisher.  "Now is a great time to visit a farmers market to find all your favorite spring vegetables and herbs, as well as our State Fruit, the blueberry, which began harvesting this week."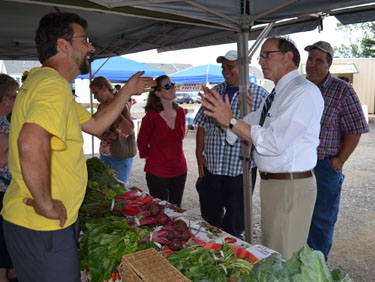 Secretary Fisher talks with one of the farmers, along with market organizers Linda and Frank D'Amico and State Board of Agriculture member Richard Norz

The Robbinsville Farmers Market is in its fourth season and has 15 vendors.  It is open June through the end of September, Mondays 3:00 p.m. to 7:30 p.m. and is situated in the town center part of Robbinsville.  Market organizer Linda D'Amico said friends and relatives urged her and her husband, Frank, President of the Mercer County Board of Agriculture, to start a market.

"We cover many different areas of farming and offer a great variety of items to the 500-plus visitors each Monday afternoon," said D'Amico.  "Because the market is in the afternoon, customers can stop by to pick up items for dinner on their way home from work.  Being situated at in the town center, it is common to have whole families walking to the market."

Sharbell Development Corp., the developer of the town center, donates the use of the land for the market each year.

Farmers at the Robbinsville market and many markets throughout the state participate in the Women, Infants and Children (WIC) and Senior Farmers Market Nutrition Program (FMNP), which provides vouchers for the purchase of locally-grown fresh fruits, vegetables and herbs.  The United States Department of Agriculture (USDA) program administered by the State Department of Health and Senior Services gives these vouchers to qualifying individuals, which

are valid through November 30. 

 

In addition, some farmers can accept Supplemental Nutrition Assistance Program EBT cards, through use of wireless transponders, through the New Jersey Department of Human Services.

For complete information on locations, days and hours of community farmers markets throughout New Jersey, visit 

 

www.jerseyfresh.nj.gov/agriculture/jerseyfresh/find/community.html.



For a chart showing what Jersey Fresh produce is in season, visit

 www.jerseyfresh.nj.gov/agriculture/jerseyfresh/find/availability.html.

For more information on the WIC and Senior FMNP, visit: www.state.nj.us/agriculture/divisions/md/prog/wic.html.