CHRISTIE ADMINISTRATION ANNOUNCES HASBROUCK HEIGHTS FARMERS MARKETS OPEN FOR THE SEASON
Community Farmers Market Offers Jersey Fresh Produce

For Immediate Release: June 18, 2013
Contact: Lynne Richmond
(609) 633-2954

(HASBROUCK HEIGHTS) – New Jersey Secretary of Agriculture Douglas H. Fisher today celebrated the opening of the Hasbrouck Heights Farmers Market, part of his 2013 Farmers Market Opening Tour this week. 

"The Hasbrouck Heights Farmers Market helps support our state's farmers, and also attracts people to the business district," said Secretary Fisher.  "The market brings just-picked produce directly to the area, giving people the opportunity to meet the farmers who grew their food and enjoy the freshest, highest quality produce.  Right now, it's a great time to find all your favorite spring vegetables and herbs, as well as our State Fruit, the blueberry, which began harvesting this week."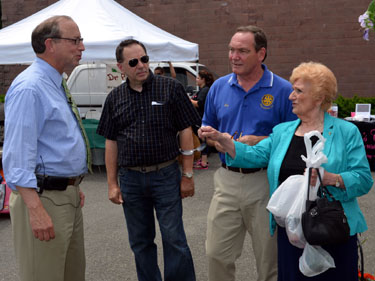 Secretary Fisher with Ray Vorisek, Assemblyman Timothy Eustace and Hasbrouck Heights Mayor Rose Heck

The Hasbrouck Heights Farmers Market is in its 10th year and has a variety of farmers and other vendors.  The market is organized by the town's chamber of commerce and was started by Ray Vorisek. 

"We started the market to bring traffic to the Boulevard," said Vorisek.  "This year, we have set up chairs and café tables to create an atmosphere that encourages people to stay."

The market is open Tuesdays 12 noon to 6 p.m. through the end of September.

Farmers at the Hasbrouck Heights market and many markets throughout the state participate in the Women, Infants and Children (WIC) and Senior Farmers Market Nutrition Program (FMNP), which provides vouchers for the purchase of locally-grown fresh fruits, vegetables and herbs.  The United States Department of Agriculture (USDA) program administered by the State Department of Health and Senior Services gives these vouchers to qualifying individuals, which

are valid through November 30. 

 

In addition, some farmers can accept Supplemental Nutrition Assistance Program EBT cards, through use of wireless transponders, through the New Jersey Department of Human Services.

For complete information on locations, days and hours of community farmers markets throughout New Jersey, visit 

 

www.jerseyfresh.nj.gov/agriculture/jerseyfresh/find/community.html.



For a chart showing what Jersey Fresh produce is in season, visit

 www.jerseyfresh.nj.gov/agriculture/jerseyfresh/find/availability.html.

For more information on the WIC and Senior FMNP, visit: www.state.nj.us/agriculture/divisions/md/prog/wic.html.