NJ TOP SEAFOOD CHEF READIES BEST OF JERSEY DISH FOR NATIONAL SEAFOOD COMPETITION
Secretary Fisher Serves as Taste Tester During Practice Run

For Immediate Release: July 16, 2013
Contact: Lynne Richmond            
(609) 633-2954

(TRENTON) – New Jersey Secretary of Agriculture Douglas H. Fisher today taste-tested Golden Tilefish and Green Vegetable Chowder, the dish the state's top seafood chef Christopher Albrecht will prepare as New Jersey's entry in the Great American Seafood Cook Off in New Orleans on August 3.

Albrecht,

the Executive Chef at Eno Terra in Kingston, and his sous chef, John Crawford Koeniger,

held a practice run of his entry today at New Jersey Restaurant Association(NJRA) Headquarters in Trenton for Secretary Fisher and a group of restaurant industry experts, who gave Albrecht tips designed to help him at the Great American Seafood Cook Off.

"Chef Albrecht has placed a great emphasis on using local, sustainable ingredients throughout his career," said Secretary Fisher.  "His signature dish highlighting Jersey Seafood and Jersey Fresh produce is sure to be a hit when he represents the Garden State in the national competition."

In addition to Secretary Fisher, expert tasters included:  Nancy Brannigan Painter from Edible Jersey; Chef Gary Giberson of Sustainable Fare; Peter Fischbach, who represented NJ in New Orleans for three years; Phil Cragg of the Academy of Culinary Arts at Atlantic Cape Community College; and Marilou Halvorsen, NJRA President from Jenkinson's in Point Pleasant Beach.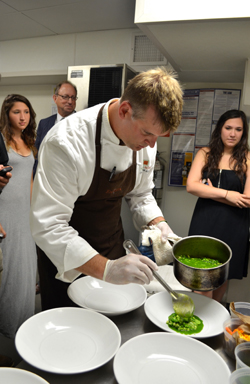 With Secretary Fisher looking on, Chef Albrecht begins plating his signature dish prior to the tasting

Albrecht competed against five other premier seafood chefs from around the state at the Department of Agriculture's Jersey Seafood Challenge on June 20 at Drumthwacket, the Governor's residence in Princeton, earning the honor of representing New Jersey at the national cook-off. 

"It is a big deal to represent New Jersey," said Albrecht.  "This trial run has given me a lot more confidence, not only in learning more about the background of the fish but getting used to the ballet in the kitchen.  I'm extremely excited, well-prepared and ready to bring home the trophy."

At Eno Terra, Albrecht said he focuses on high quality seasonal ingredients from small, family-owned farms and producers.  He also oversees a two-acre farm that produces most of the produce used at Eno Terra.

Albrecht grew up on Long Beach Island and attended the Culinary Institute of America.  After graduation, Albrecht went to work in Manhattan at Danny Meyer's world renowned Gramercy Tavern.  There, he worked closely with "Top Chef" Tom Colicchio before assuming the role of Executive Chef at Craftsteak Las Vegas at the MGM Grand Hotel and Casino.

The Great American Seafood Cook-off is held during the Louisiana Foodservice Expo in the Morial Convention Center, and is sponsored by the National Oceanic Atmospheric Administration (NOAA) and presented by the Louisiana Seafood Promotion & Marketing Board. 

The champion will be named King or Queen of American Seafood.New Jersey has a significant seafood industry.  In 2011, New Jersey fishermen reeled in 175.5 million pounds of seafood, valued at $211.7 million.  It is estimated these landings generated a billion dollars of economic activity.  The industry also generates thousands of jobs, with 2,500 commercial fishermen, and 1,500 employed by 109 seafood processors/dealers.

The top species by dollar value harvested in New Jersey included:  sea scallops; surf clams; oysters; hard clams; blue crabs; ocean quahogs; and, fluke.

For more information about New Jersey seafood, visit the Jersey Seafood website at www.jerseyseafood.nj.gov.