CHRISTIE ADMINISTRATION CELEBRATES JERSEY FRESH FARM TO SCHOOL WEEK IN VERNON TOWNSHIP
Lounsberry Hollow School Students Learn About Local Agriculture

For Immediate Release: September 27, 2013
Contact: Lynne Richmond
(609) 633-2954
E-mail: lynne.richmond@ag.state.nj.us 

(VERNON) – New Jersey Department of Agriculture Division of Food and Nutrition Director Rose Tricario celebrated the 3rd annual Jersey Fresh Farm to School Week on September 24 with a visit to Lounsberry Hollow School in Vernon.  Students were treated to a program by Nicole Anderson of Anderson Farms in Branchville.

The Department of Agriculture's Jersey Fresh Farm to School Week, taking place September 23 to 27, highlights efforts to connect schools with New Jersey farmers to purchase local produce for school meals.  It also seeks to teach children where their food comes from by growing it themselves in school gardens. 

"Farm to School Week encourages schools to serve healthy, local produce to their students," said Director Tricario.  "Hearing firsthand about where that produce comes from went a long way to helping the students at Lounsberry Hollow make better food choices."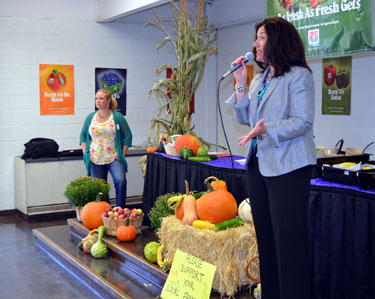 Rose Tricario of the NJDA talks to students in the cafeteria about Jersey Fresh Farm to School Week before Nicole Anderson presented her program on squash.

Anderson talked specifically about squash, one of New Jersey's top crops.  School chefs prepared squash dishes for the 5th and 6th grade students to sample during their lunch period.

"In our fast-paced technology-rich society, it is more important than ever to not lose focus on the importance of agriculture and the fact that New Jersey maintains thousands of acres of farmland and continues to be a large supplier of a variety of fruits and vegetables," said Lounsberry Hollow principal Dr. Stewart Stumper.  "Vernon Township is uniquely located in an area of the state where State Parks, Federal Preserves and farmland are common place.  The recent development of a large community garden underscores the importance of reminding our children of the rich agricultural roots both in Vernon, as well as across the entire state of New Jersey."

By law, Farm to School Week takes place each year the last week in September.  For more information about the Farm to School Program, visit www.nj.gov/agriculture/divisions/fn/childadult/farm_to_school.html.