CHRISTIE ADMINISTRATION CELEBRATES JERSEY FRESH FARM TO SCHOOL WEEK IN MOUNTAINSIDE
Deerfield School Students To Plant Seeds for School Garden

For Immediate Release: September 27, 2013
Contact: Lynne Richmond
(609) 633-2954
E-mail: lynne.richmond@ag.state.nj.us 

(MOUNTAINSIDE) – New Jersey Department of Agriculture Division of Food and Nutrition Director Rose Tricario celebrated the 3rd annual Jersey Fresh Farm to School Week on September 24with a visit to Deerfield School in Mountainside, where students planted seeds for their school garden.

The Department of Agriculture's Jersey Fresh Farm to School Week, taking place September 23 to 27, highlights efforts to connect schools with New Jersey farmers to purchase local produce for school meals.  It also seeks to teach children where their food comes from by growing it themselves in school gardens. 

"Farm to School Week encourages schools to serve healthy, local produce to their students," said Director Tricario. "School gardens teach students a lot about the hard work it takes to grow our food and gives them a better appreciation for our New Jersey farmers."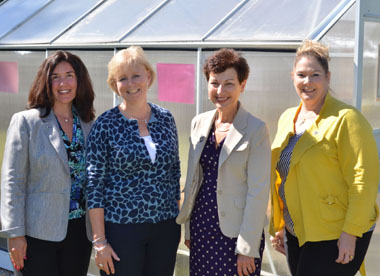 Rose Tricario, School Principal Kimberly Richards, Chief School Administrator Dr. Nancy Lubarsky and Jackie Bricker, NJDA Farm to School Program.

Elena Bentey, Deerfield School's life skills teacher, said the third through fifth graders will be planting the seeds all week in honor of Farm to School Week.  The school has five different gardens: pizza, herb, flower, root vegetables and salad.

"The garden is now part of the curriculum teaching students the full cycle, from seed to nurture to harvest to cook and finally eat," said Bentey. 

This is the second year for the "Garden to Table" program, which was sponsored by local businesses. 

By law, Farm to School Week takes place each year the last week in September.  For more information about the Farm to School Program, visit www.nj.gov/agriculture/divisions/fn/childadult/farm_to_school.html.