CHRISTIE ADMINISTRATION HIGHLIGHTS JERSEY FRESH FALL PRODUCE
Agriculture Secretary Fisher Visits Toms River Farmers Market

For Immediate Release: October 2, 2013
Contact: Lynne Richmond 
(609) 633-2954
E-mail:  lynne.richmond@ag.state.nj.us 

(TOMS RIVER) – New Jersey Secretary of Agriculture Douglas H. Fisher today visited the Downtown Toms River Farmers Market to remind consumers to continue to support New Jersey farmers by visiting community farmers markets around the state, many of which run through November.

"You can find an abundance of fruits and vegetables still available at farmers markets throughout the state," said Secretary Fisher.  "Many of these markets are open up to Thanksgiving, which is a great time of year to be outdoors and enjoy our state's bounty while supporting New Jersey farmers."



New Jersey had 141 community farmers markets this season, eight of which were new.

 These markets feature Garden State farmers who sell their just-picked produce directly to consumers.  Many accept vouchers from the Senior Farmers' Market Nutrition Program and WIC (Woman Infant and Children) Farmers' Market Nutrition Program administered by the Department of Health and Senior Services.

Eating Jersey Fresh fruits, vegetables and other agricultural products can go a long way to improving overall health. Eating locally also is a good choice for protecting our environment by reducing the miles a meal travels between farm and fork, lessening fuel consumption.  In addition, choosing locally grown products helps keep New Jersey farmers on their land, preserving the Garden State's quality of life.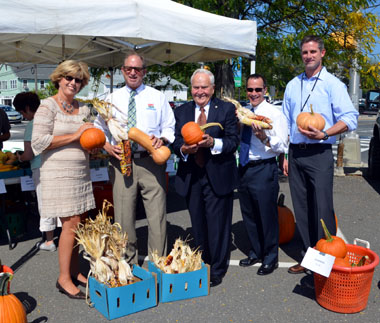 Joanne Juralewicz of the Toms River Business Improvement District, Secretary Fisher, Toms River Mayor Thomas Kelaher, Jody Allesandrine, Exec. Dir. of the Improvement District and Ryan Allen, Ocean County Planning Department

The Downtown Toms River Farmers Market is open Wednesdays 11 a.m. to 5 p.m. through November 20, with a special Thanksgiving market on Monday, November 25.  The market features four produce farmers, one organic farmer and numerous vendors selling honey, crab cakes, baked goods, nuts and candy, hot sauces, olive oils, wine and more.

"We're proud to have one of the busiest markets in New Jersey," said Jody Alessandrine, Executive Director, Toms River Business Development Corporation.  "The fact that Secretary Fisher takes time to visit these markets throughout the state shows his commitment and that of the administration, to the farming and produce industry. Further, we appreciate that they recognize the importance of New Jerseyans having access to healthy, fresh, locally-grown foods."

Many area farmers markets will be open well into the fall, including:

OCEAN COUNTY
Barnegat – October 24, with a special holiday market on Sunday, November 24
Seaside Park – October 13
Tuckerton Seaport – September 21

MONMOUTH COUNTY
Asbury Park Carousel – October 3
Downtown Freehold – October 18
Galleria Red Bank – mid-November
Giamano's (Bradley Beach) – end of October
Highlands – November 2
Keyport – October 3
West End – end of November

For complete information on locations, days and hours of community farmers markets throughout New Jersey, visit http://bit.ly/12LncV7.   

To find out more about the WIC and Senior Farmers Market Nutrition Program, visit www.nj.gov/agriculture/divisions/md/prog/wic.html.