Home
>
News
>
Press Releases
>
2013
>
CHRISTIE ADMINISTRATION PRESENTS BURLINGTON, HUNTERDON, OCEAN COUNTIES WITH ANIMAL RESCUE TRAILERS
CHRISTIE ADMINISTRATION PRESENTS BURLINGTON, HUNTERDON, OCEAN COUNTIES WITH ANIMAL RESCUE TRAILERS
Trailers to Aid Pets in the Event of a Disaster

For Immediate Release: October 3, 2013
Contact: Lynne Richmond 
(609) 633-2954
E-mail:  lynne.richmond@ag.state.nj.us
Dominic Rota – NJ Office of Homeland Security and Preparedness
(609) 588-7250
Mary Goepfert – NJ State Police/Office of Emergency Management
(609) 963-6818     

(TRENTON) – In an effort to improve the ability to care for pets in the event of an emergency, New Jersey Secretary of Agriculture Douglas H. Fisher and Office of Homeland Security and Preparedness Director Edward Dickson today awarded animal rescue trailers to Burlington, Hunterdon and Ocean counties' Offices of Emergency Management. 

The three 20-foot trailers are outfitted with cages and can be used to provide temporary shelter or transportation for pets in emergencies.  The trailers have heating and cooling units, electrical and water hook-ups, generators and external light sources, giving users the ability to set up a temporary animal shelter at any location.

"As we saw during Superstorm Sandy, there was a great need to care for animals evacuated along with their owners," said Secretary Fisher.  "These additional animal rescue trailers will give more animal emergency first-responders greater ability to evacuate pets and to set up temporary shelters wherever they are needed once disaster strikes."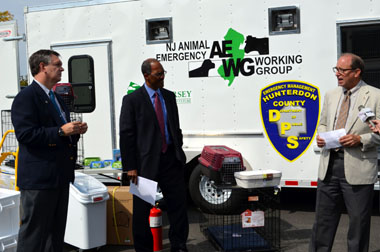 NJ State Veterinarian Dr. Manoel Tamassia, OHSP Director Edward Dickson and Secretary Fisher in front of Hunterdon County's trailer.

The trailers were paid for with an Urban Area Security Initiative Grant and a State Homeland Security Grant through the New Jersey Office of Homeland Security and Preparedness.  The Department of Agriculture received $150,000 with which they purchased the trailers and bought supplies, such as disposable food dishes and litter pans, animal crates, pet pee pads and horse halters.

"Ensuring that counties are capable of providing shelter to animals during an emergency event that requires evacuation is a priority," said Director Dickson.  "Investing funds to equip counties with trailers to adequately shelter and transport pets and livestock during a large scale disaster enhances our emergency readiness, and strengthens our State's response and recovery efforts.  By partnering with the Department of Agriculture and each County Animal Response Team (CART), we have bolstered local area preparedness by allocating finite federal dollars for regional projects, which enables us to better protect the entire State." 

The trailers will be used by the counties' Animal Response Teams (CART), first responders who are trained on animal issues in disasters.  All CARTs were activated during Superstorm Sandy, with many setting up pet shelters, either on location at human shelters or at other locations.

Hunterdon County officials today picked up their trailer, which cost $40,382 and included $5,516 in supplies.  The Hunterdon County Animal Response Team was first formed in 2004 and has more than 40 members.  During Superstorm Sandy, Hunterdon CART operated a temporary animal shelter for 12 days.

Burlington and Ocean Counties will take possession of their trailers at later dates. 

In addition to the trailers, the funding included the purchase of $8,604 in CART start-up supplies for Monmouth County.

Previous Homeland Security grants received by the Department of Agriculture have gone to purchase nine other animal emergency trailers, either for emergency animal shelters or veterinary care.  Those trailers were given to Burlington, Camden, Hudson, Hunterdon, Ocean and Sussex counties in 2006 and 2007 and Bergen, Hudson and Morris counties in 2011.

The trailer project was a cooperative effort between the Department of Agriculture, New Jersey State Police Office of Emergency Management and the New Jersey Office of Homeland Security and Preparedness.

Domestic animals are an integral part of daily life in America.  Approximately 60 percent of U.S. households have dogs, cats and other species as companion animals.  In addition to their intrinsic value, pets or service animals improve the quality of life for people and both police dogs and rescue dogs routinely save human lives.

To learn more about the County Animal Response Teams, or to become involved, visit www.nj.gov/agriculture/divisions/ah/prog/cart.html.

For information for animal owners on how to plan ahead and be prepared, visit www.nj.gov/agriculture/divisions/ah/prog/emergency_preparedness.html.