CHRISTIE ADMINISTRATION HIGHLIGHTS FALL FARM ACTIVITIES
Secretary of Agriculture Visits Farm, Navigates Corn Maze

For Immediate Release: October 4, 2013
Contact: Lynne Richmond
(609) 633-2954
E-mail:  lynne.richmond@ag.state.nj.us 

(MONROE TOWNSHIP) – New Jersey Secretary of Agriculture Douglas H. Fisher yesterday enjoyed a morning at Etsch Farms' western-themed corn maze.

"Enjoying the beautiful fall weather on a farm with so many great activities is a fun and affordable way for families to spend a day," said Secretary Fisher.  "Plus, they don't have to go far from home to find a farm to visit.  They can make lasting memories, learn about New Jersey agriculture and support our state's farmers."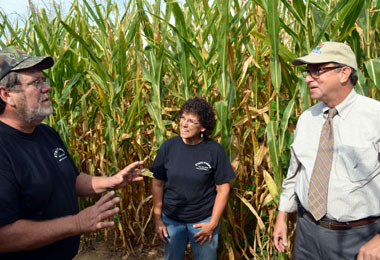 Jim and Caroline Etsch with Secretary Fisher in their corn maze.

Agritourism offers a variety of year-round experiences such as corn mazes, pick-your-own produce, hayrides, winery tours, horseback riding, cut-your-own Christmas trees and educational experiences.  Agritourism provides more than $60 million a year in revenue for farmers and an additional $33.3 million in revenue for surrounding communities.

A study conducted by Rutgers Food Policy Institute in 2007 found more than one-fifth of New Jersey farms offered some form of agritourism, with 43 percent of New Jersey's total farmland associated with farm operations engaged in agritourism.  The study also showed that a large percentage of farms offering agritourism events derived most, if not all their income from those activities.

Etsch Farms, first established by George Etsch in 1931, is now operated by grandson Jim Etsch, his wife Caroline and their sons Zachary and Peter.  The Etsch's grow corn, hay and  straw.  In the fall they offer a corn maze, this year depicting a cactus and Conestoga wagon, hay rides, a pumpkin patch and farm animals.  They also have educational programs and host parties.

To find activities planned this fall on New Jersey farms, visit www.jerseyfresh.nj.gov/find/fallfun.html or www.visitnjfarms.org, and www.visitnj.org websites.