Home
>
News
>
Press Releases
>
2013
>
CHRISTIE ADMINISTRATION AWARDS NUTRITION GRANTS TO 8 CHILD CARE CENTERS, 11 ELEMENTARY/MIDDLE SCHOOLS
CHRISTIE ADMINISTRATION AWARDS NUTRITION GRANTS TO 8 CHILD CARE CENTERS, 11 ELEMENTARY/MIDDLE SCHOOLS
Grants to Help Increase Child Wellness in NJ

For Immediate Release: October 7, 2013
Contact: Lynne Richmond 
(609) 633-2954
E-mail:  lynne.richmond@ag.state.nj.us 

(TRENTON) – New Jersey Secretary of Agriculture Douglas H. Fisher today

visited Millhill Child and Family Development in Trenton to announce the awarding of Team Nutrition Training mini-grants to eight child care centers and 11 elementary and middle schools in the state with the goal of helping children make healthier food choices and improve their overall health.

Millhill is one of the recipients of the grant program, which was expanded for the 2012-2013 cycle to include for the first time early childhood centers.

"By expanding this valuable program to child care centers, we are reaching children younger and helping them to form healthy life habits by teaching them about eating well and exercising," said Secretary Fisher.  "We have seen over and over again the positive impact of school gardens on the students, teachers and staff, as well as the community at large."

The Christie Administration received a $324,151 Team Nutrition Training Grant from the United States Department of Agriculture in 2012.  Eight childcare centers were selected to receive mini-grants of $1,500 each. They are: Millhill Child and Family Development, Trenton; Noah's Ark, Highland Park; The Learning Gate, Bridgewater; Neighborhood House Association, Plainfield; PROCEED Early Childhood Development Center II, Elizabeth; Northwest New Jersey Community Action Partnership, Phillipsburg; Northwest New Jersey Community Action Partnership, Ringoes; and Budding Babes, Florence.

Eleven elementary and middle schools also were chosen to receive mini-grants.  Four schools that were part of the 2010-2011 Team Nutrition Training Grant program will receive $1,000 each.  They are:  Cape May City Elementary School, Cape May; Aura School, Elk Township; Francis A. Desmares Elementary School, Flemington; and Ethel McKnight Elementary School, West Windsor.  The new schools, which will receive $2,500 each, are:  Red Bank Elementary School, Red Bank; West Belmar; Delaware Township School, Delaware Township; Sayreville Middle School, Sayreville; John Fenwick School, Salem; Mannington Township School, Mannington; and Van Derveer Elementary School, Somerville.

The funding will be used to plant school gardens, help students make healthier food choices and train personnel on a variety of wellness issues.  The grant, issued by the U.S. Department of Agriculture, enhances the Christie Administration's continued commitment to improving the nutritional habits of the state's school children through initiatives like the "Fresh Fruit and Vegetable" program.

New Jersey's Department of Agriculture is working with Rutgers Cooperative Extension's Department of Family and Community Health Sciences on the two-year grant project, continuing the mission of a similar Team Nutrition Training Grant received in 2010.  The most recent grant will include child care centers, as well as elementary schools.

"If we are going to stop child obesity in young children, we need to start with Early Care Education," said Dr. Kathleen T. Morgan, Chairperson of Family and Community Health Sciences. "Hopefully providing nutrition education for the providers and parents in addition to teaching young children healthy choices, portion sizes, and serving themselves will be the catalyst for new, healthy behaviors."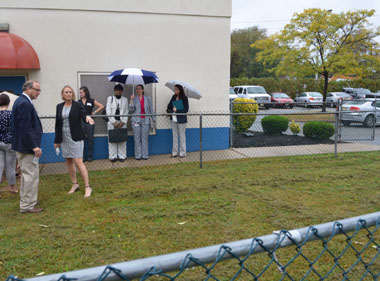 Millhill Child & Family Development Executive Director Cynthia Oberkofler shows Secretary Fisher the site where the center's garden will be build and planted.

Millhill Child & Family Development will use their funding to grow a vegetable garden, which will help the children develop responsibility and teamwork skills and learn about how vegetables help them grow and stay healthy.  Parents will be invited to the opening of the garden, which will help parents develop a dialogue with their children that will continue in the home.  And, corporate and individual volunteers with their Day of Caring program will help the children plant the seeds, sparking community involvement as neighbors come together to help one another.

"The Team Nutrition grant garden will not only provide Millhill with a tool for teaching families about nutrition and children about the math and science of growing a garden, but most importantly it will be a visual reminder for the children of their accomplishment," said Cynthia Oberkofler, Executive Director of Millhill Child & Family Development.

Milhill is a 501(c)(3) non-profit organization dedicated to helping families in the Trenton area through education, counseling and family support services.  It was founded in 1971 and serves more than 2,500 families.

In addition to gardens, the program has provided training for New Jersey food service personnel on the new federal Healthy Hunger-Free Kids Act school lunch regulations, put in place last school year, which requires more fruits and vegetables and whole grains, fat-free or low-fat milk, fat-free flavored milk and strict limits on saturated fat.   They also were taught how to creatively use U.S. Department of Agriculture foods in the lunch program.

The grant included training on the practices of the "Smarter Lunchroom Movement," which places healthier foods, such as fruits vegetables, whole grains, low-fat dairy products and legumes, in a place where students will choose them over less nutritious options.

Webinars have been utilized to make it easier for foodservice personnel to take advantage of training.

There has been ongoing training on the benefits of and procedures for applying for the HealthierUS School Challenge and 40 Family and Community Health Sciences Wellness Champions trained as part of the 2010 Team Nutrition grant are being utilized to teach fun, interactive nutrition lessons, create and enhance school gardens, assist schools as they incorporate nutrition and school gardens in the classroom and serve on school wellness councils.

The New Jersey grant is part of $5.2 million in Team Nutrition training grants the USDA awarded to 18 states, funded in support of the Healthy, Hunger-Free Kids Act.

To learn more about the New Jersey Department of Agriculture School Nutrition Programs, visit www.nj.gov/agriculture/divisions/fn/childadult/school.html.

To find out about Rutgers Get Moving Get Healthy New Jersey program, visit www.getmovinggethealthynj.rutgers.edu/.