CHRISTIE ADMINISTRATION AWARDS GRANT TO GLEANING ORGANIZATION
Farmers Against Hunger Collects Donated Produce, Delivers to Food Pantries and Soup Kitchens

For Immediate Release: November 21, 2013
Contact: Lynne Richmond
(609) 633-2954                                                             
lynne.richmond@ag.state.nj.us 

(COLTS NECK) – New Jersey Secretary of Agriculture Douglas H. Fisher announced on Wednesday, November 20, that Farmers Against Hunger is the recipient of a $100,000 Gleaning Support Grant, made possible through the Department of Agriculture's State Food Purchase Program. 

Fisher made the announcement at Eastmont Orchards in Colts Neck, where he joined teachers from the Monmouth County Career Center in Freehold in harvesting Brussels sprouts that will be distributed by Farmers Against Hunger (FAH) to agencies preparing Thanksgiving dinner baskets for those in need.

"Farmers Against Hunger utilizes an army of volunteers to pick produce that otherwise might have gone to waste and distribute it to emergency feeding agencies," said Secretary Fisher.  "There are many generous farmers in the state who give back to their communities in this way.  It is a win-win for all involved."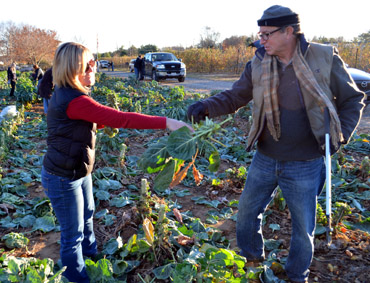 Kristina Guttadora, Farmers Against Hunger Program Director, and Secretary Fisher glean Brussels sprouts at Eastmont Orchards

This is the second season Eastmont Orchards has worked with Farmers Against Hunger.  So far, farm owner David Barclay has donated 13,000 pounds of apples and 24,000 pounds of various types of squash, most of which was gleaned – or picked – by FAH volunteers..

Thirty-three farms, including seven new farms, donated their surplus produce to FAH this season.  Since July, FAH collected more than 430,000 pounds of fresh produce from those farms, which was distributed to more than 70 organizations, including soup kitchens, food pantries and the state's food banks.  Much of that produce was gleaned  by FAH volunteers. 

Kristina Guttadora, Farmers Against Hunger program director, said the Gleaning Support Grant will be used for general operations including staff,

truck fuel, maintenance and programmatic expenses.  Last year's grant allowed them to expand to accept new farms, host additional gleanings and reach new feeding organizations.  They also added a third part-time driver to help host gleanings and make deliveries.  One of the new distributions established this year was to Camden on a weekly basis from July through September.

"The State Food Purchase Program Gleaning Grant provides a significant portion of the necessary funding for our program's success," said Guttadora.  "We are so grateful to receive this financial support which helps us provide our produce at no cost to the food banks, soup kitchens, and other agencies receiving the donations. The entire community benefits from this program - as gleaning volunteers become connected to New Jersey's farms, as farmers utilize an efficient way of donating their surplus produce, and as the 16 percent of our neighbors in need receive healthy, nutritious food for their next meal."

Farmers Against Hunger operates with a staff of just one full time, and four part-time employees, as well as a network of dedicated volunteers and supporters.

Gleaning Support Program grants must be used by the gleaning organizations for collection, distribution and administrative costs.  The groups must distribute the gleaned New Jersey grown produce or non-farm nutrient dense rescued food gleaned from non-farm sources outside of the growing season only to New Jersey residents.

The funding for the grants comes from the State Food Purchase Program, for which Governor Christie allocated $6.8 million dollar this year to be distributed quarterly to the state's six food banks to purchase healthy food, with a high priority on buying locally grown produce from New Jersey farmers.