Home
>
News
>
Press Releases
>
2013
>
CHRISTIE ADMINISTRATION AND FEDERAL OFFICIALS HONOR STAFFORD SCHOOLS FOR NUTRITION, PHYSICAL ACTIVITY INITIATIVES
CHRISTIE ADMINISTRATION AND FEDERAL OFFICIALS HONOR STAFFORD SCHOOLS FOR NUTRITION, PHYSICAL ACTIVITY INITIATIVES
Four Schools Presented with Healthier US School Challenge Awards

For Immediate Release: November 26, 2013
Contact: Lynne Richmond
(609) 633-2954
lynne.richmond@ag.state.nj.us

(STAFFORD TOWNSHIP) – United States Department of Agriculture and New Jersey Department of Agriculture Food and Nutrition officials today presented McKinley and Ocean Acres Elementary Schools, Ronald L. Mienders Primary Learning Center and Stafford Intermediate School with Healthier US School Challenge Awards, recognizing the schools for promoting good nutrition and physical activity.  The four schools attained the Bronze Level of the award, which carries a $500 prize for each school.  The schools were presented with banners and certificates for their achievements during a ceremony at Oxycocus Elementary School.

"The Stafford Township School District has made good nutrition and teaching about healthy lifestyles a priority," said Rose Tricario, New Jersey Department of Agriculture Division of Food and Nutrition Director.  "They are truly deserving of the prestigious Healthier US School Challenge Award.  We encourage them to continue to build upon their successes and reach higher levels of the award."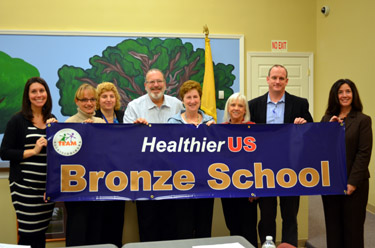 Photo of Michelle Frey, USDA FNS, Stafford Township school principals and Rose Tricario

The Healthier US School Challenge (HUSSC) is a voluntary national certification initiative for schools participating in the National School Lunch Program.  Sponsored by the USDA Food and Nutrition Service (FNS), the initiative encourages all schools to take a leadership role in helping students to make healthier eating and physical activity choices that will last a lifetime. 

"Achieving the Healthier US School Challenge recognition demonstrates Stafford Township School District's deep commitment to create and maintain a healthy school environment," said Michelle Frey, USDA Food and Nutrition Service.  "These four schools can serve as models for others seeking to make improvements."

Stafford Township school lunch menus were modified at the four schools to meet the HUSSC guidelines, including all whole grains, vegetable sub-groups, fruits and competitive snacks.  In addition students in grade K-6 receive nutrition education, such as interpreting food labels.  Students also get an average of 150 minutes per week of physical education.

"It is an honor to be able to share with parents/guardians that we are a Healthier US School Challenge bronze award winning school district," said George Chidiac, Stafford Township School Superintendent.  "Our district is committed to good nutrition with the healthy Hunger Free Kids Act.  Combined with exercise and healthy eating, our physical education staff is dedicated to this commitment and offers many activities during recess and regularly scheduled classes."

The four Stafford Township schools are

among 68 in the state that have earned the Healthier US School Challenge Award.

Schools awarded a distinction receive a monetary incentive (Bronze $500, Silver $1,000, Gold $1,500, and Gold Award of Distinction $2,000), an award plaque signed by a USDA official, a banner to display in their school, and their name listed on the Team Nutrition Web site.

To qualify for an award, a school must submit a formal application and meet basic criteria set forth by the FNS for food that should be served in schools.  Healthier US Schools must also have a local school wellness policy, as mandated by Congress.  Schools receiving a HUSSC award commit to meeting the criteria throughout their four -year certification period.

Schools that champion the HUSSC work hard to make changes to their school nutrition environment in order to (1) improve the quality of the foods served, (2) provide students with nutrition education, and (3) provide students with physical education and opportunities for physical activity. 

For more information on the Healthier US School Challenge, visit www.fns.usda.gov/tn/healthierus/index.html.